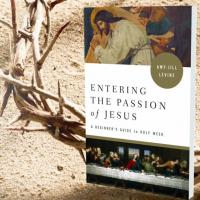 Sunday Morning Lenten Study
March 14, 2019

Sunday Morning Lenten Study, March 17 – April 28
---
Rev. Mark Beckett will lead a study of Amy-Jill Levine's book,
Entering the Passion of Jesus: A Beginner's Guide to Holy Week
on Sundays at 10am during March and April.
What did Jesus risk? And why? Each week the class will focus on a different event from the last week of Jesus' life--from the entry into Jerusalem through the Garden of Gethsemane—and will view a short lecture by Dr. Levine. Dr. Levine is a Jewish scholar who studies the New Testament with a special focus on historical research about Jewish practices of Jesus' day. The class will focus on the kinds of risks that Jesus took throughout that final week and will consider the implications for following Christ today.
The class is open to all adults and each week can stand on its own…come to one or come to all. There will be six sessions, March 17, 24, 31, April 7, 14 and 28. Class will not meet on Easter Sunday.
Back