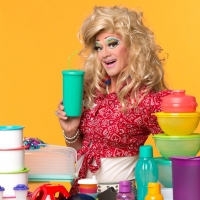 This Ain't Your Mama's Tupperware Party!
August 3, 2019

Spectrum Tupperware Party with Miss Dee W. Ieye
Friday, August 16 at 6:15
---
On August 16, 2019 as Spectrum welcomes Miss Dee W. Ieye for an unforgettable Drag Queen Tupperware Party! Guests are invited to arrive after 6:15pm, with the actual presentation beginning at 7:00pm.

For those of you who are not familiar, Dee is one of the top Tupperware salespeople in the US and Canada, and she puts on one heck of a show. You'll laugh, you'll cry (probably because of the laughing), and I promise it'll be better than "Cats." Childcare will be available that evening. Follow King Avenue Spectrum on Realm and Facebook for updates and finalized details. It promises to be a hoot and a half! (Find out more about Dee at www.deewieye.com/wordpress/about/.)

Thank you for your continued support of Spectrum! We love to see so many new faces turning out at our events, but we especially love to see repeaters!
Back