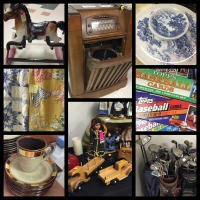 UMW Rummage Sale, Fall 2019
October 11, 2019

UMW Rummage Sale Volunteers
---
The United Methodist Women are looking for a few good and friendly people who will enjoy helping in these rummage sale areas:
The Women's Boutique

The Children's Corner

The Furniture Store

The Christmas Shoppe
We offer great friendships, delicious food, and satisfaction with the work. We raise thousands for mission at home and abroad! AND you will have early shopping opportunities for yourself!


Setup & Shpping... The Rummage Sale – October 18 & 19
---
Many hands make light work! Setup for the Fall Rummage Sale begins October 15 after worship, and continues all week. Volunteer to work, and a delicious lunch is provided. You will see the lower level of our building transformed! Please also consider baking a delicious treats to donate to the Calorie Counter (ingredient list appreciated).

Come to shop! The UMW Fall Rummage Sale is Friday, October 18 from 9:00 – 3:00, and Saturday, October 19 from 9:00 – 1:00. The UMW donates proceeds to missions.
Back