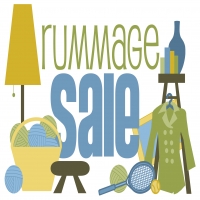 UMW Spring Rummage Sale
April 20, 2017

United Methodist Women - Spring Rummage Sale
Friday, May 12 from 9:00 - 3:00
Saturday, May 13 from 9:00 - 1:30
---
Mark your calendar for the United Methodist Women's Spring Rummage Sale on May 12 and 13! Sale revenue supports mission projects in local, national, and international settings. Bring your donations to Fellowship Hall between the services on Sunday mornings, or on Wednesday evenings from 6:00 to 7:00. Please do not leave items in the hallways or at the foot of the stairs. Thank you for your generous donations of clean, gently used items (we cannot accept computers, or old tube type televisions.) Contact Connie Hook or Sue Swenor to arrange pick-up of large items.

Volunteering:
Volunteers are what make the sale a success. Please contact Evy Hummon, volunteer coordinator, evymay3@aol.com to help.
Preparations - Consider helping with set-up on Sunday, May 7. We need help Monday, May 8 through Thursday, May 11 to sort, display, and label items.

Calorie Counter - You can also help by contributing baked items for the Calorie Counter

Sale Days - We need volunteers to sell, bag, or take money on Friday and Saturday during the rummage sale.

Clean Up - After the sale, we need help with break-down and clean-up. Many hands make light work!
Back