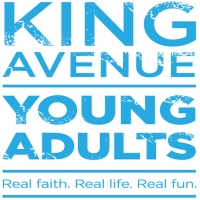 Young Adults Happenings - April & May
April 11, 2017
Sunday, April 30 - King Avenue Young Adults Clippers Outing
Join us at the ballpark for a fun Clippers game! Tickets are available for $4 to the first 18 Young Adults to RSVP on the Facebook event invite or directly to Elizabeth Scott via email (EScott5861@gmail.com). Please include how many tickets you are requesting and who will be attending with you. The group will meet at the North East corner of Huntington Park at the intersection of Neil Ave and Brodbelt Ln (across the street from The Basement) at 1:30pm to pass out tickets. Game starts at 2:05pm vs Charlotte.

Wednesday, May 17 - Theology on Tap
Join us for our quarterly Theology on Tap from 7-8PM Wednesday, May 17th at Giant Eagle Market District in Grandview (840 W 3rd Ave, Columbus, OH 43212). Pastor Anna Guillozet
will lead us in a discussion around Generation Theory and the Church Today. We will meet upstairs above the bar area so please feel free to grab a beverage, some food, and join us in conversation.

Thursday, May 18 - Open Shelter Lunch Packing
If you are available from 6-6:45pm, please consider coming to the Church to assist in making 200 lunches for the Open Shelter. We will begin promptly at 6pm putting the sack lunches together in the kitchen (located in the Church basement). Open Shelter Lunch Packing happens on the Thursday before the third Friday of each month. This is a great way to meet new people at King Ave while helping to make a difference in our community.

Sunday, May 21 - YA Brunch
Immediately following the 11am service the Young Adult group will meet for brunch in the Parlor. All brunch items will be provided - please just attend to get to know other young adults at King Avenue. Come hungry!
Back