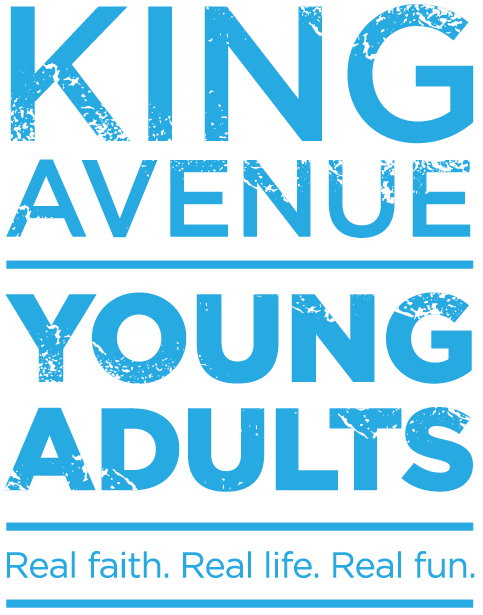 King Avenue Young Adults is King Avenue's community for people in their 20s and 30s. Whether you are trying to make it in the "real world" or living a full life in your early 30s, there's space for you here.

At King Avenue, young adults are millenials, gen xers, graduate students, young professionals, progressives, new parents, married, single, urban dwellers, suburbanites, lesbian, gay, straight, queer, questioning, trans, male, female, gender nonconforming, inclusive, connected, transparent, dedicated, open-minded -- You get the picture.

We take pride in the diversity of our entire congregation at King Avenue. That's why we encourage young adults to participate in our weekly intergenerational worship services on Sunday mornings -- Morning Blend at 9 or the more traditional service at 11. We encourage everyone to learn from and be in ministry with people of various backgrounds and stages of life. We also understand the importance of life that is lived in community with people who share similar passions, thoughts and experiences.
---
We strive to be an inclusive group of deeply connected young adults that cares for one another, makes a difference in our world and grows closer to God. This happens in three ways:

Real Faith: Worship and Spiritual Growth
Faith is at the center of King Avenue Young Adults. We have different perspectives, but that's okay. In addition to Sunday morning worship, we offer a variety of ways for young adults to grow spiritually including ongoing theological discussion groups.

Real Life: Small Groups and Outreach
As young adults, we seek deeper connection with the world around us. At King Avenue, we offer opportunities to grow in relationship with other young adults and to serve the wider community. Join a Small Group. Do life together. Serve our neighbors in need.

Real Fun: Social Activities
Life can be pretty demanding for young adults. With so many things vying for our attention (some call us America's "most stressed generation"), we don't believe the church should add to life's pressures. As young adults, we find time to play together. We eat. We laugh. We have fun.

Small Groups for Young Adults
Small Groups offer space for young adults to grow closer to God and other young adults. Small groups meet throughout the week at various locations throughout Greater Columbus. Small groups provide ongoing support, fellowship and the opportunity for young adults to grow in their faith.

Interested in learning more about Young Adult Ministries? Contact Ben at benjamin.bolander@gmail.com.

Connect with Us:
King Avenue UMC Young Adults Facebook Page:
https://www.facebook.com/kaumcyoungadults/