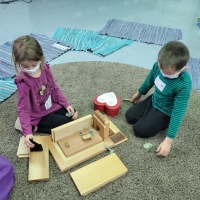 Fall Kick-Off for Children, Youth, and Families
August 10, 2022

Welcome Back, King Avenue Children, Youth, and Families!
---
There are some amazing events and programming for children, youth, and families for the 2022-2023 school year.

The Blessing of the Backpacks, Bags, and Briefcases will be in both services (9 am and 11 am) on August 28. Please bring your bag for the blessing and pick up a treat to remind you of how much you are loved by your church family.

Fall Kickoff Party, September 11!
We are bouncing into this new Children's Ministry year with excitement and fun. As we welcome everyone back, we hope you will bounce right along with us. Please join us, with a spring in your step, on Sunday, September 11th, after the 11:00 am church service. We will start out by serving a pizza lunch at 12:00 pm in the Fellowship Hall. After lunch, there will be games, chalk art, bubbles, and bounce houses until 2pm when the event ends. You might want to pack extra socks since you have to take your shoes off while bouncing. We will have two bounce houses- one for our school age children and one for toddlers and early pre-schoolers. No matter your age, we want you with us. Let's celebrate that we are all God's children and all are welcome wherever our feet take us. It's going to be a great year at King Avenue. (If the weather is uncooperative, games and activities will be held in Fellowship Hall instead.)


9am Morning Blend Worship Connections
Age 4 - Grade 3 Classroom L4 (Children's Hallway- Lower Level)
10am Sunday School Hour - Godly Play and Youth Sunday School
Age 4 - K Classroom L4 (Children's Hallway- Lower Level)

Grade 1-3 Left Classroom L5 (Children's Hallway- Lower Level)

Chrysalis Club Grade 4-5 Right Classroom L5+ (Children's Hallway- Lower Level)

C.O.R.E Youth (Grade 6-12) Donnenwirth Lounge (Upper Level)

Real People Real Parenting Small Group Chapel (Upper Level)
11am Worship Connections
Age 4 - Grade 3 Classroom L4 (Children's Hallway- Lower Level)
We are still looking for volunteers! We especially need 4-6 adults for the Chrysalis Club for 4th & 5th graders at 10 am. We also need an assistant for 9 am Worship Connections. Contact Gwen (gwen@kingave.org) if you're willing to support the Sunday morning ministries. Be aware that if any of our adult volunteers are sick, they will stay home and that class will be combined or canceled. You can still participate by watching the service on our worship site, which will continue to be available. To stay informed on any changes, we encourage parents and caregivers to connect in our Facebook groups. All of our Godly Play stories and Children's Messages are available on our King Avenue UMC YouTube Channel.

Nursery
The nursery will be available beginning Sept. 11th. We are still looking to hire 1 or 2 more childcare workers. King Avenue has welcomed FOUR new babies since December and I am incredibly grateful to Ada Wilcox and Jason Cooley for their leadership and passion for our littlest members. There will be opportunities to volunteer in the nursery as well. Talk to Gwen for more information.
Back