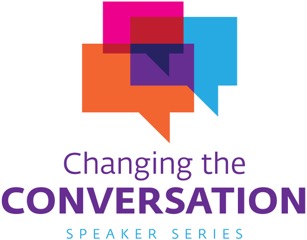 "Changing the Conversation" Speaker Series feature Christian thought leaders striving for inclusion of traditionally-marginalized people and communities.
The Changing the Conversation Speaker Series has allowed for rich experiences. View our YouTube playlist to see some of our past speakers.

SAVE THE DATE – CHANGING THE CONVERSATION SERIES 2020 Let's Talk About Sex: An Ethics Conversation for All Wendy VanderWal Gritter Sunday, October 11 • 7 – 8 PM A rules-based approach to sex hasn't served the church very well. The harm runs deep. There must be a better way. Dr. Wendy VanderWal Gritter will help us understand how reclaiming our agency, sharpening our discernment, sharing wisdom and mutual support, and focusing on flourishing are steps to embracing God's good gift of sex. Bio: Dr. Wendy VanderWal Gritter (she/hers) has served as Executive Director at Generous Space Ministries since 2002. She is the author of, "Generous Spaciousness: Responding to Gay Christians in the Church." Her work has been featured on CBC, Macleans, HuffPost, and Broadview. Wendy serves on the board of Q Christian Fellowship. After nearly 20 years serving at the intersection of faith, gender, and sexuality, Wendy is an internationally recognized contributor to conversations about LGBTQ2+ justice in the church. She is a passionate advocate for those who have been hurt or marginalized by the church. Wendy believes that the church is impoverished if any voices are missing from the conversation. Wendy lives beside a tidal river that flows into the Bay of Fundy with her two daughters, three dogs, and beautiful black cat.