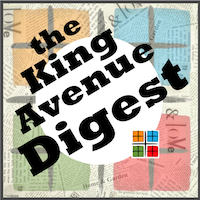 King Avenue Digest 1/20/23
January 20, 2023
UPCOMING EVENTS AND NEW ANNOUNCEMENTS
Morning Blend Relocating - Our Fellowship Hall is getting remodeled! The project will start in February and will give us a new sound booth and several other physical improvements in the space. This also means that Morning Blend will be relocating to the Chapel starting on February 5 and continuing through the end of March.

2022 Giving Statements – Your 2022 Giving Statements are currently available for self-generation via Realm. In addition, email and/or US Mail copies will be provided to all by January, 31st. If you have any questions please contact our Stewardship Secretary, Susan Jenkins, at susan@kingave.org.

Saturday, January 21: Young Adult Game Night - King Avenue Young Adults (post-college – age 35) are getting together to play board games on Saturday, January 21 at 7pm! Whether you're a board game fanatic, you're very mediocre, or you don't play much but you want an excuse to make adult friends, join us! You can bring your favorite game if you have one, or just bring yourself to make community in the competition. We will gather at a member's home, so let Pastor Andy know if you're interested (andy@kingave.org) and he'll let you know the address and add you the King Avenue Young Adults WhatsApp group.

Sunday, January 22: Military Soup & Sandwich Lunch - If you are currently serving or have previously served in the armed forces, please join us for a soup and sandwich lunch in the Fellowship Hall following the 11:00am service on Sunday January 22. Please RSVP to Andrew Thornton andrewcthornton@gmail.com a.s.a.p.

Saturday, January 28: CORE Youth Skating Outing - Time to skate the night away! Grades 6 to 12 are welcome to be at Skate Zone 71 on January 28 at 5 PM. We will be skating, playing laser tag, having some pizza, and tons of fun! Please RSVP by January 21 to ada@kingave.org.

Sunday, January 29: Lit Club - Join the Lit Club on the last Sunday of each month at 7pm in the Logos Lounge. All are welcome! Simply read the book of the month, and get together to talk about it. The group will meet at 7pm in the Logos Lounge to discuss The Seven Husbands of Evelyn Hugo by Taylor Jenkins Reid.

January Item of the Month for NNEMAP - Each month, we are going to focus our donations on specific items our community partners. You can bring your donations with you on Sundays. There will be a place to leave them in the back of the worship space. Please donate canned soup and bar soap for NNEMAP during the month of January.

Friday, February 10: Organ Recital - Don't miss the opportunity to hear Daniel Ficarri on February 10 at 7:30 PM for an organ recital at King Avenue United Methodist Church. Mr. Ficarri is Associate Director of Music and Organist at the Cathedral of St. John the Divine in New York City. He was recently named one of the top "20 under 30" organists by The Diapason magazine. This will be a treat to host Mr. Ficarri! A freewill offering accepted. CLICK TO LEARN MORE

Saturday, February 11: United Women of Faith General Meeting - 10am in the Parlor

Sunday, February 12: Bishop Gregory V. Palmer - King Avenue Church is honored to host West Ohio Conference's Bishop Gregory V. Palmer. Do not miss this opportunity to hear Bishop Palmer preach, and show him our radical hospitality. Stay tuned for more information on this special service.

Sunday, February 12: Blessing Bag Assembly - Blessing Bags are back! Join us in the Fellowship Hall after 11 AM service on February 12. All ages are welcome!

Friday, February 17: CORE Youth Valentine-Themed Game Night - It's game time! Join us for a Valentine's Day themed game night. Grades 6 to 12 and adult volunteers are welcome on February 17 at 6:30 PM in Donnenwirth. Feel free to deck yourself out in Valentine's gear!

POSTPONED All Church Lunch - Due to the Fellowship Hall remodel, our February All Church Lunch has been postponed tentatively to Sunday, April 16. The Kitchen Cabinet met, and is "cookin' up" some good ideas to make our next meal special! Stay tuned for details.

Chancel Flowers for Worship - If you are interested in signing up to donate Chancel Flowers for worship, please use this form. You can specify that your flowers be listed in the bulletin in memory or honor of a person or notable event. The arrangement is yours to take home at the end of that Sunday's service.

Lit Club Update - Join the Lit Club on the last Sunday of each month at 7pm in the Logos Lounge. All are welcome! Simply read the book of the month, and get together to talk about it. Get ready for the January conversation on Sunday, January 29 to talk about The Seven Husbands of Evelyn Hugo by Taylor Jenkins Reid. Looking ahead, February 26 will discuss Four Winds by Kristin Hannah and March 26 will discuss Lessons in Chemistry by Bonnie Garmus.

Lunch Packing Update for 2023 - King Avenue packs lunches for the Open Shelter on several Tuesdays and Thursdays... 24 times in 2023. All hands on deck for packing 200-400 lunches at a time! CLICK HERE for the schedule, and join when you're able. All days/dates are 6:00pm in the King Avenue kitchen. Many hands make light work!
Back