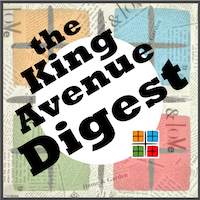 King Avenue Digest 3/16/23
March 16, 2023
*NEW ANNOUNCEMENTS*
Support AIDS Walk Ohio - Join the team or donate to the Spectrum/Rainbow Connections team. Donations are tax-deductible and support Equitas Health's critical medical, dental, counseling, case management, and support services to those living with HIV. Through public awareness, testing, and treatment, we can render the virus untransmittable across our state. CLICK HERE TO DONATE OR JOIN OUR TEAM

Changing the Conversation Survey - We want to help King Avenue have deep, informative, and meaningful conversations about topics that are important, uncomfortable, and aren't easily addressed in other areas of our life together. We need your help to determine what that topic to pursue in 2023. Please take a quick 2-minute survey to help us select a topic. Thanks! CLICK TO TAKE THE SURVEY

Friday, April 21: United Methodist Women of Faith Pasta Fundraiser Dinner - All are welcome for a delicious dinner and fellowship on Friday, April 21, 4PM to 7PM. Dinner will be served in KAUMC Fellowship Hall. The cost is $10 for adults, and $5 for children under 12. The menu includes Pasta with Meat Sauce, Italian Salad, Garlic Bread, Dessert, Beverage. Vegetarian Option Available. The meal is available for dine-in or carry out. This dinner is sponsored by United Women in Faith. All proceeds benefit missions supporting women, youth and children. Stay tuned for more details.

Listening Sessions - Join us for one of the upcoming Listening Sessions: March 21​, 6:30-8:30pm; March 29​, 1:00-3:00 Zoom Only (change to Zoom only); March 29​, 6:30-8:30pm. Listening Sessions utilize the Circle Process to gather personal perspectives and experiences, allowing participants to hear everyone's point of view. It is a structure for ordered conversations. The values of a Circle embody the belief that all people are made in the image of God. The group sits in a circle. The facilitator states a focusing question. The leader then passes a talking piece. When holding the talking piece, the speaker addresses the group while others listen in complete silence. When the speaker is finished, the talking piece is passed to the next person. No one's opinions are debated or questioned. Rules are introduced to help people say what they need to say in non-threatening words. Rev. Karen Cook and Rev. Sara Thomas from the Conference Office will be leading the sessions. In order to keep the groups small, you need to sign up for the session you'd like to attend. If you are planning on attending March 21, please sign up by the 17th. If you are planning on attending March 29, please sign up by the 27th. CLICK TO SIGN UP
LENTEN ANNOUNCEMENTS
Easter Flower Orders - Tulips and Azaleas are displayed throughout our Sanctuary during the Easter season. The cost of a Tulip is $9, and an Azaleas are $14 each. Your donations will be included in the 9am and 11am Eastere bulletins on Sunday. April 9. Flowers are available to take home after the 11am service. Please submit your payment and necessary information by Monday, March 20. Please attach your payment to the order form, and place in offering plate or turn into the church office. Make checks payable to KING AVENUE UMC and indicate EASTER FLOWERS on memo line. Payment may also be made on Realm. CLICK HERE TO DOWNLOAD AN ORDER FORM

Download Lenten Devotions: Prepare your hearts this Lenten season with a devotion journey using John Wesley's Means of Grace. Download a Lenten Devotional that offers a reading and challenge for each special day such as Ash Wednesday and Good Friday, and for each Sunday of Lent. Thank you Pastor Linda for preparing this guide for us!

Wednesdays, March 1-29 from 7:00-8:30pm: Stories of Authenticity and Resilience Lenten Storytelling Series - Lent is a journey through the wilderness. As a people of faith, we are not alone, but we often feel alone. We are longing for connection and community, especially during hard times. You are invited to participate in a unique, intergenerational storytelling series this Lent. Each evening, King Avenue siblings will tell personal stories of authenticity and resilience. Then we will open it up for anyone to share a 3-5 minute story in response to the speakers. Each evening will begin with a Lenten scripture reading and end with a meditative reflection. Come. Walk with us. Questions? Contact Gwen.

Thursdays, February 23-March 30 from 6:30-7:30: John Wesley's Means of Grace Zoom Lenten Study - Pastor Linda Middelberg will host an online class that will follow themes for each week. The themes for the class will be related to John Wesley's Means of Grace, also the theme for the Lenten devotions. Each week's reading will be available on a Facebook Group on Wednesdays, and the Zoom discussion will take place on Thursdays at 6:30pm. Members are welcome to use the comments in this private Facebook Group to share ideas. CLICK HERE TO REQUEST MEMBERSHIP IN THE FACEBOOK GROUP. All are welcome to participate in the Thursday Zoom class even if you're not in the Facebook Group.

Sundays, February 26-April 2 at 10am: Lenten Worship Series, Living Our Baptismal Calling - Lent is the season in which we prepare for Easter, the highest and holiest day of the year for us. We usually think of it as a season in which we give up something (eg. sweets, social media, etc.) Historically speaking, the season of Lent was a time of intense preparation in the early church for those who would be baptized on Easter Sunday. This year, we will be emulating that tradition by examining the vows we made or our parents made for us at our baptism. Each Sunday in Lent (starting February 26) we will examine a different baptismal vow - what it means and how we can live it out in our daily lives as a community of baptized, beloved followers of Jesus. CLICK TO LEARN MORE AND DOWNLOAD RESOURCES

Sundays, February 26-April 2: Looking Back/Moving Forward Adult Sunday School - The time of Lent can feel like we are treading on the edge of darkness as we wait for the joyous light of Easter Morning which means it can be a time for introspection. Please join us for a six week drop-in workshop, structured through a church context and designed to help us process what the Covid-19 pandemic took from us. We will then move forward into our new understanding of what the world brings to us now. Not designed to be a rehashing of Covid grievances, but instead a time to genuinely connect while processing how Covid has changed our lives and our church. We will then transition to discussion about the good that has come out of this cataclysmic event, envision how the changes wrought by Covid in our church can be used for defining who we are as a congregation, and where we would like to see our church and ourselves in the future. While this may trigger deep feelings, we will support one another in understanding and love. This series will be at 10am on Sundays in the Fireside room, starting February 26.

Sunday, March 26 from 2:00-3:00pm: Easter Egg Hunt - Meet in the chapel and get ready to have some Easter fun. All ages are invited. Youth may help lead activities. Please reach out to ada@kingave.org with any questions.
HOLY WEEK WORSHIP
Sunday, April 2 at 9am & 11am - Palm Sunday Worship (chapel/sanctuary + livestream)

Thursday, April 6 at 7pm - Maundy Thursday Worship (sanctuary + livestream)

Friday, April 7 at 7pm - Good Friday Worship (sanctuary + livestream)

Sunday, April 9 at 9am & 11am - Easter Worship (chapel/sanctuary + livestream)
IN OTHER NEWS...
Saturday, March 18 at 7:00pm: Young Adults CharCLUEterie - King Avenue Young Adults are getting together for a murder mystery party and a charcuterie potluck - we call it CharCLUEterie. If you're a young adult (post-college-35ish) we would LOVE for you to join us! Just bring a charcuterie board, items to put a board together, or just bring yourself, and be ready to solve a mystery! March 18, 7:00 pm, at the church building - see you then!

March 19 and 20: King Avenue Players Auditions for Spoon River Anthology - King Avenue Players is seeking actors of all experience levels, ethnicities and identities for this classic retelling of Edgar Lee Masters' masterpiece. Auditions are 3/19 and 3/20 from 6:30-9:00pm. Please prepare a resume and recent headshot for the director, and be prepared to list your conflicts. During auditions, you will be asked to read selections from the script. Please note that there is a mandatory set preparation meeting on 4/23 at 1:00pm and a mandatory set strike immediately following the Sunday matinee. Performances are: Thursday, Friday and Sat 5/4 - 5/6 at 7:30pm; Sunday matinee on 5/7 at 3:00pm.

Tuesday, March 21: Retirees Popcorn & Movie ELVIS - Join the Retirees Ministry on Tuesday, March 21st for the viewing of the movie Elvis - the life of American music icon from his childhood to becoming a rock and movie star in the 1950s while maintaining a complex relationship with his manager. Meet in the Parlor at 11:30 for the movie and popcorn. Bring a sack lunch to enjoy during or after the movie.

Friday, March 24 at 5:30pm - Saint Paddy's Day Activity Night - Children, Youth, and Family Ministries St. Paddy's Day Activity Night is happening Friday, March 24th, 5:30 to 7:30 pm. Join us in Donnenwirth Lounge for fun, engaging activities for the whole family. All ages are invited. Ada has made a sign-up sheet to bring food to the event. Please reach out to ada@kingave.org for the sign-up sheet and RSVP by March 16th. We hope to see you there!

Friday, March 24 at 7:00pm - Rainbow Sorbet & Gayme Night - Your favorite LGBTQ+ ministry is back! We have decided to change our name from Spectrum to Rainbow Connections to avoid confusion with the cable company. Our first event will be on March 24 from 7-9:30. We will be hosting a game night in the Parlor. Everyone is welcome to have a sorbet, meet a gay, and make that Rainbow Connection! We will have games for all ages.

March 26: Lit Club - Join the Lit Club on the last Sunday of each month at 7pm in the Logos Lounge. All are welcome! Simply read the book of the month, and gather together to talk about it. Get ready for the March 26 Lit Club when will discuss Lessons in Chemistry by Bonnie Garmus. If you'd like to read ahead, here are the upcoming books: April 30 is West with Giraffes by Lynda Rutledge; May 28 is Demon Copperhead by Barbara Kingsolver; June 25 is Young Mungoby by Douglas Stuart; and July 30 is The Lincoln Highway by Amor Towles.

Sunday, April 16: All Church Lunch - Mark your calendars for the next All-Church Luncheon when we can gather around the table and celebrate with our new 2022-23 Confirmation Class! Stay tuned for volunteer opportunties and sign-ups.

NNEMAP Item of the Month for March - Each month, we are going to focus our donations on specific items our community partners. You can bring your donations with you on Sundays. There will be a place to leave them in the back of the worship space. Please donate canned tomato products 15 ounces or less, mall size shampoos, cat and dog food, toilet paper, or large size diapers to NNEMAP during the month of March and April.
FAITH FORMATION, FELLOWSHIP, AND SUPPORT
First Sundays are Communion Sundays! On the first Sunday of every month, there is no Worship Connections. Everyone is invited to fully participate in worship services and communion. For parents and kids 4 yrs to 5th grade, there is Family Godly Play in the Chapel at 10 am. No other parent or children's Sunday School class will take place on the first Sundays of the month. The CORE Youth Group will still meet in Donnenwirth for their SS class.

Ongoing Children, Youth, Family Opportunities - Check our website for our ongoing opportunities for Children, Youth, and Families. This includes our ongoing children and youth Christian education, faith formation, community and fellowship, and ways you can stay connected. CLICK HERE for our Children, Youth, and Family Page on the King Avenue website.

Last Sundays of the Month at 7pm: Lit Club - Join the Lit Club on the last Sunday of each month at 7pm in the Logos Lounge. All are welcome! Simply read the book of the month, and get together to talk about it. Contact Trisha Barhorst if you'd like to be added to the communication group in Realm.

Isaiah 35 Fellowship - Depression, anxiety, and many other mental health issues can challenge faith and hope and contribute to a feeling of isolation. Isaiah 35 is a confidential group providing fellowship, support, and prayer for adults with mental health struggles. We meet on every other Sunday (beginning 2/12/23) on Zoom from 7 to 8 pm. Due to the nature of this group, please contact Mary Bostian for the Zoom link and more details. (614) 371-0171 marybostian50@gmail.com

Our Spectrum Ministry is now Rainbow Connections - Our Mission Statement now states, We create a safe harbor for LGBTQ+ Christians and their allies, and witness to God's love for everyone. Stay tuned for many fun fellowship opportunities to come!
OPPORTUNITIES TO HELP
ADDITIONAL ITEMS OF NOTE
2022 Giving Statements – Your 2022 Giving Statements are currently available for self-generation via Realm. In addition, email and/or US Mail copies will be provided to all by January, 31st. If you have any questions please contact our Stewardship Secretary, Susan Jenkins, at susan@kingave.org.

Chancel Flowers for Worship - If you are interested in signing up to donate Chancel Flowers for worship, please use this form. You can specify that your flowers be listed in the bulletin in memory or honor of a person or notable event. The arrangement is yours to take home at the end of that Sunday's service.

King Avenue History Books Available - King Avenue History Books will go on sale beginning Sunday Nov. 6, 2022 and continue throughout Advent. The cost is $15.00 each - cash or check only. We still have unclaimed complimentary books to distribute, Don't be shy! Please check on yours! Look for the King Avenue History Book table at the conclusion of each worship service throughout Advent.

THANK YOU HISTORY COMMITTEE! Thanks to the Centennial Committee - especially Angela Finney - for our Centennial Contemplations! Read all of the questions and answers at the CENTENNIAL CONTEMPLATIONS PAGE.

Theme for 2022-23 - Your church staff has chosen a theme for this 2022/23 year, and it is "Home." King Avenue is that for so many, a home that is accepting, loving and empowering. Our desire it to share that sense of home with all whom we encounter, whether they are currently part of congregation or not. You will hear us refer to home in a variety of ways this year as we kick off our fall events for our adults, our children, and youth. We welcome all of you home! We are looking forward to seeing you come back to King Avenue this fall. Welcome Home, dear friends. READ MORE
Back