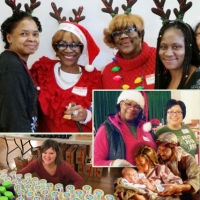 Bethlehem on Broad Street 2022
November 18, 2022

Bethlehem on Broad Street 2022
---
There are lots of different ways to mark the holiday season and there is no better way to celebrate the birth of Christ than through Bethlehem on Broad Street (BOBS). BOBS began 30 years ago in response to a single request for dinner on Christmas Day at the St. Lawrence Haven. The event has expanded to several thousand guests each year through the efforts of churches of different denominations, different faiths, and organizations on and off Broad Street.
This year the BOBS planning team believes it is time for a more hands on ministry. The program will stretch in a new direction with a very focused ministry, which will be directed toward the daily guests who are supported by the drop-in services and warming center that Broad St. U.M.C. hosts throughout the year. This new direction includes providing much needed supplies for hygiene, survival and, fun activities that will benefit our homeless and underserved population from 43215 and surrounding zip codes.
On Saturday, December 10, 2022, the annual Bethlehem on Broad event returns to Broad Street United Methodist Church, located at 501 E. Broad Street. This year the BOBS mission has shifted gears and will be replacing its usual food drive with distributing much needed supplies to our underserved and homeless neighbors. The event will include a holiday festival with music, food and even a visit from Santa. The event will run from 9:00 a.m. to 4:00 p.m. This year King Avenue has committed to providing 75 back packs filled with hygiene supplies and 75 bags filled with survival supplies There is also opportunities to complete bags filled with fun items and additional supplies. We hope to have a group of volunteers to help with distribution of the supplies and support during the holiday festival. If you are interested in volunteering, please visit Bethlehem on Broad St Volunteers 2022 to sign up. Back packs, bags and lists will be provided and available before and after both services beginning Sunday, November 13th. Supply lists are also available by following this link, BOBS Donation List 2022.
In lieu of providing the supplies King Avenue is also taking monetary donations for this event. To give, please visit Realm or contact Amy Ashburn at the church office, by email at amy@kingave.org or by phone at (614) 424-6050.
All items must be returned to King Avenue by Wednesday, December 7th. Items can be dropped off in the marked receptacles in the Fellowship Hall and Milling Area or, returned to the church office by appointment.
Learn more about Bethlehem on Broad by following this link. http://www.bethlehemonbroadstreet.org
Back