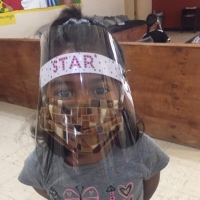 Casa de Misericordia & Cuisine for a Cause
July 26, 2020
Coronavirus hits Casa de Misericordia
On Friday July 17, one of the primary caregivers at Casa de Misericordia tested positive for COVID-19. This person has been in isolation for over a week, as are two other on-site adults who have shown symptoms of the virus but either have not yet been tested or have not received their results. Several of the children also have symptoms (sore throat, headache, and body aches) as have some of the workers who visit the casa during the day. One of these workers has received test results but the test was inconclusive.
It is fortunate that the census at the casa is currently low with about a dozen orphans on site. They have been wearing cloth facemasks and plastic face shields for several days, and are practicing social distancing and better hygiene habits as best they can. Isolation is difficult because of the shared bathrooms and living spaces but they are making every effort to slow the spread of the virus.
In other Casa de Misericordia news, Cuisine For A Cause has been cancelled for 2020. We'll try again in 2021!
The leaders at Casa de Misericordia have two requests.
First of all, please cover all the children and orphanage workers in prayer. Pray that those infected would have minimal symptoms and pain and that this would soon pass. Please pray that the illness would stay manageable and not require any hospitalizations. Please pray for good health and safety over the children who have not yet shown symptoms and that more of them do not take ill. Please pray for God to continue to provide and especially to give strength to the workers and caregivers. Pray that God would continue to guide them and give wisdom and knowledge to the doctors treating all those involved.
Second, please consider making a financial donation to Casa de Misericordia. The cancellation of Cuisine For A Cause will be a significant financial blow to the orphanage as this has been the casa's largest fundraiser for over a decade. The timing is especially bad because of the extra costs associated with the care and treatment of COVID-19 including medicines, doctor visits, testing and additional sanitation & hygiene routines. You can click HERE to Make a Donation, and don't forget to change the pull-down menu to specify that your gift be routed to Casa de Misericordia.
Back