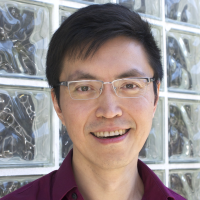 Changing the Conversation 2018
By Changing the Conversation | December 29, 2019

This year's Changing the Conversation series will bring Dr. Ling Lam to King Avenue Church.

Ling Lam, Ph.D. is a Lecturer in the Counseling Psychology Department at Santa Clara University, where he teaches Couple Therapy and LGBTQI+ Counseling classes. He also provides onsite counseling at Google. Lam was a keynote speaker at the Gay Christian Network Conference in 2017. He holds a Ph.D. in Psychology from Institute of Transpersonal Psychology, a M.A. in Counseling Psychology from Santa Clara University, a M.S. in Electrical Engineering and a B.S. in Electrical Engineering, both from Stanford University. These programs are part of King Avenue's "Changing the Conversation" Speaker Series, which features Christian thought leaders striving for inclusion of traditionally-marginalized people and communities






Saturday, June 23 • 9 AM – 1 PM
"I Love You, Please Go Away! The Art & Science of Life-Giving Relationships"
Do you have problems or worries with current relationships? Are there relationships you would like to fix? Do you have relationships you would like to begin? Do you want to deepen the experience of connection? In this workshop, we will look at why relationships are hard, and what makes relationships work. Informed by cutting-edge neuroscience research and grounded in clinical experience gleaned from hundreds of real-life couple therapy sessions, this workshop will present a holistic and practical approach to enhancing intimacy, improving communications, rekindling passion, avoiding pitfalls, and deepening the aliveness you experience in relationships. Whether you are single or partnered, come ready to learn, to share, to ask questions, and to have fun.

Click HERE to download the flyer for this event.
Click HERE to register for this event.

---



Sunday, June 24 • 7 – 8:15 PM
"Pain, Shame & Resilience: Where LGBTQI+ Meets Religion/Spirituality"
The longing to be authentic and the longing to be accepted are universal human emotional needs. Sometimes they come into conflict with each other, with relational, psychological, and spiritual consequences. LGBTQI+ people who are also religious or spiritual can experience this conflict between authenticity and acceptance. This talk will look at what happens when these longings conflict – which can be a painful experience but also a pathway toward deeper resilience and wholeness.

Click HERE to download the flyer for this event.
Back