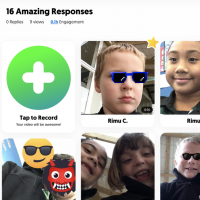 Children's Connections - FlipGrid
April 25, 2020

Help our King Avenue Children Connect through FlipGrid!
---
Sign up to participate in a weekly video message board through Flipgrid. It is widely used by preschoolers through high school students across the country. This is fun and SAFE for the whole family. Each class has its own "grid:"
King Avenue Kids: 4 yrs - Kindergarten

King Avenue Kids: 1st - 3rd Grade

King Avenue Kids: 4th - 5th Grade

One parent/guardian will sign up each child with their (adult) email address. Adults will not create an account for themselves, only use their email as a log-in credential. When you sign up, please indicate which "Grid" each child should be added to. The form will ensure that each child will have their own sign-in profile. ALL kid users will be checked for accuracy and approved by Gwen or Erin before they are activated.
Remember:
Flipgrid User ID: The email address of the adult who has signed up each child.

Child ID: first name + last initial (all lower case, no spaces i.e. Sam Jones would be samj).

Back