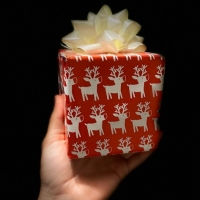 Hubbard Holiday Help
November 28, 2023

Hubbard Holiday Outreach
---
To honor our partnership with Hubbard Elementary, we are collecting, wrapping, and distributing gifts! Read through these activities, and become involved if you can!

Hubbard Holiday Giving Tree - November 19 through December 3
Begninning Sunday, November 19, you will see the Hubbard Holiday Giving Tree in the milling area. Please consider picking up a gift tag or two, then returning your new, unwrapped gift by Sunday, December 3.

Youth Gift Wrapping Party - Friday, December 8 at 6pm
Youth Gift Wrapping Elves! Would you like to help wrap gifts? Join us as we wrap the donated gifts from the Hubbard Holiday Tree. We will gather in Donnewirth on December 8 at 6pm for a wrapping party. For more information, contact Ada at ada@kingave.org.

Distributing Gifts to Families - Thursday, December 14, 3:30-6:00pm
Santa's Helpers Needed! We are looking for volunteers on December 14 from 3:30-6:00pm at the church. We will be handing out gifts to Hubbard families. Come help spread some cheer!
Image Credit - Photo by Alin Surdu on Unsplash
Back