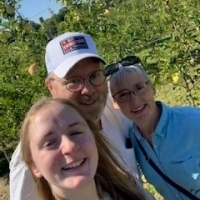 Introducing Pastor Karen Muntzing
March 27, 2023
Introducing Pastor Karen Muntzing
---
The PPR Committee met with District Superintendent Reverend Tim Bias for an introductory meeting with our new Lead Pastor. We are pleased to announce that Reverend Karen Muntzing will be King Avenue's next Lead Pastor effective July of this year. Currently she is serving as the Lead Pastor at Christ UMC in Marietta, Ohio. The PPR committee is already working behind the scenes to ensure that our faith community will provide a welcoming experience for Reverend Muntzing and her family. If you have any thoughts and/or suggestions to ensure a smooth transition, please feel free to reach out to one of the committee members.


Words from Pastor Muntzing
---
Friends at King Avenue UMC—
It is a joy and privilege to be appointed by Bishop Palmer to serve as your next Lead Pastor, beginning in July, 2023. DS Tim Bias had to tell me more than once that this was going to happen—it seemed simply unbelievable!
I have known of your ministry from nearly the beginning of my own journey of faith. I sat at a large dinner table in Grayson's home in the early 2000's for The Great Commission Leadership Academy, and I have never forgotten the experience. I wasn't raised in the church, but did have a profound, brief, God-encounter in my youth. In adulthood, about 10 years into our marriage, I had a life crisis—I lost a job that had been my identity. That loss served as a catalyst to remembering that encounter with a loving God, finding myself again, and particularly to finding my life, and since, our family's life with God. I sank deeply into all things local church, being transformed by Disciple Bible Study. My husband and I celebrated our renewed marriage, and the birth of our daughter, Sarah. When she was 9 months old, I dipped my toe into the occasional student waters at MTSO. By Fall, I was fully enrolled on route to my MDiv in 2004. My first appointment was as Pastor at Westgate UMC, near Broad & Hague where I served for 4 years. I served for 11 years at Hilliard UMC as Associate/Executive Pastor and will finish my 4th year serving as Lead Pastor at Christ UMC Marietta.
Brook and I have been married since 1987. We met while working at Deibel's Restaurant. I veered into specialty food at Katzinger's and Michael's Finest Market, before going into outside specialty food sales and distribution, while Brook worked in restaurants for Bravo/Brio and Cameron Mitchell, baked for Stan Evans, and finished his work life out at Weiland's in their prepared food and catering department. Daughter Sarah is a graduate of OSU, with a degree in Public Policy, Management & Leadership. She is employed by the Franklin County Public Health Department. We have a dog, Sadie, and a cat, Charlotte, both have been with us a long time.
My ministry passions revolve around creating, fortifying, and enhancing spaces where all are radically welcomed—which is why being appointed to King Avenue is such a "pinch-me" moment. I believe our image of God creates us, and I trust that God created us in and for love, belonging, and relationship, with integrity, so that all and each might grow in wholeness, fullness of life. I like to think I am a Proverbs 31:8-9* sort of woman, and pastor. Journeying with others is holy work—and I look forward to all of the holy moments we will share, as we continue to notice our immersion in God and God's love. I look forward to finding new and renewed ways for us to witness to God's love in our midst, in our community, and in all places where we go to live and serve.
I am committed to my first pilgrimage to Israel from June 26-July 7, and am eager to return to serve and share with you on July 9.
Joining this "community of servants called by God's reconciling grace to open doors of sanctuary, to create new avenues of ministry, to equip Christians for discipleship, and to lead reconciling ministries" with you is an honor and a privilege.
With love and hope,
Pastor Karen Muntzing
Back