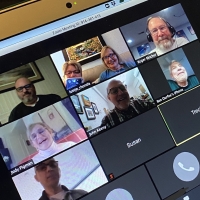 Joining a Zoom Meeting
March 24, 2020
King Avenue Meetings
ZOOM is our video/phone conferencing platform. We will be using ZOOM to virtually connect with each other for meetings, small groups, and faith formation classes. When you are part of one of those groups, you will be given information to join a ZOOM meeting.
Fellowship Among Friends
Want to connect with one another "unofficially?" Small groups of friends can set up a time to get together, even if it's not an official church group. Think about a virtual way to do your Sunday brunch with friends, or just get families together for a virtual game night.
JOINING A KING AVENUE VIRTUAL MEETING, FELLOWSHIP GROUP, OR CLASS
You can join a ZOOM conference as a video call, or as a phone call.

1. JOINING A ZOOM CALL WITH YOUR SMART PHONE
Joining a ZOOM meeting from a smart phone is probably the easiest option. If you have a smart phone (iPhone or Android), you will want to install the ZOOM app first. When you click on the Link to Join Meeting in your email, it'll automatically open the ZOOM app. Watch this video to help you.
CLICK HERE TO WATCH VIDEO TUTORIAL.




2. JOINING A ZOOM CALL WITH YOUR COMPUTER
If you are joining on your computer, watch the video below. This will help you to ensure that your camera and microphone are enabled. If you're having trouble, try going to the link in a different browser. Sometimes Chrome may work better than FireFox or Safari.
CLICK HERE TO WATCH VIDEO TUTORIAL.
3. JOINING A ZOOM CALL AS A CALL-IN (NO VIDEO)
If you have trouble getting into the video call with your smart phone or computer, you can always call in. The ZOOM invitation will have a phone number associated with it. You will call the number where it says Dial by your location (select New York), then enter the Meeting ID when prompted.
CREATING A FELLOWSHIP OPPORTUNITY WITH A FREE ACCOUNT
Use Google or Facebook to create a FREE account in Zoom, then use that to stay connected with your friends. Sunday Brunch and Family Game Night now have a new twist! You can set up a meeting using a FREE account.

This video will help you to set that up.

The easiest way to share meeting information is to Copy the invitation, and email it to your friends.
Back