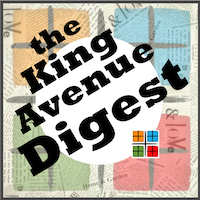 King Avenue Digest 1/8/21
January 8, 2021
Upcoming Events, Announcements, and Imminent Needs
Jan 9 at 10am: James Hollis Book Discussion - The Zoom discussion will be facilitated by Joe Hecker. Along with being a member of the JACO board, Joe studied for three years in a Roman Catholic seminary, has a degree in psychology, and a master's degree in education. He is a lifelong reader and writer with a particular interest in literature based in philosophy, psychology, and spirituality. He is currently in his thirtieth year of teaching high school Language Arts and is finalizing a collaborative book project with photographer Marc Alter. To participate in this free Zoom discussion, please mark your calendar for January 9 at 10 am. and use this link on the day of the program: https://zoom.us/j/96805367109?pwd=NDd4Z1I2VXFIamtDcEtiRXRjQk56dz09

Jan 10 at 9am: Seeing Our Faith in Others' Eyes, Jewish and Christian Scripture in Dialog - MARC BRETTLER. PH.D. will lead the discussion on Zoom. LEARN MORE.

Jan 24 at 2:00pm: Winter Audubon Hike - Join your King Ave Spectrum friends on for a winter's hike at the Scioto Audubon Metro Park (505 W. Whittier Street, Columbus.) We'll meet at the Grange Insurance Audubon Center at 2:00 p.m. to take in the sounds, sights, and delights that the park's trails have to offer. Be sure to mask up and dress appropriately for the weather!

Jan 31 at 7:00pm - Lit Club: The Lit Club will get together on January 31 at 7pm to discuss Eligible by Curtis Sittenfeld,

Feb 11 at 6:30pm: Spectrum Movie Discussion Night "Secret Love" - In honor of Valentine's Day, Spectrum will hold a movie discussion night on February 11, 2021 at 6:30 p.m. to talk about the Netflix documentary, "Secret Love." This film looks at the seven decade relationship between Terry and Pat. Terry, a former baseball player with the All-American Girls' Professional Baseball League, kept her relationship secret from her family for most of those 70 years. This is a touching film that explores issues of aging, love, and family from the perspective of women who have lived their lives together. Take time to watch the film before Feb. 11, and then join us ready to discuss what you've seen and experienced. The Zoom meeting code will be posted on FB closer to the date of the event.

Share your Pets-at-virtual-church Pics - We are in the "Dog Days of Winter." Many of us feel winter's darkness more profoundly this year as we are separated from one another due to the pandemic. Let's flip "Dog Days" from a bad thing to an uplifting thing... Our furry family members (or feathered or scaled) are bright spots for many of us. I'd like to collect images from our King Avenue family that show their dogs, cats, lizards, birds, hamsters, and others "at church" on Sundays. Email rhonda@kingave.org with your pet pics, or post a photo comment to this post on Facebook, Twitter, or Instagram.

The Upper Room - Sorry for the delay! Upper Room devotionals for January-February have finally arrived. They are available for pickup outside the west and south doors.

Warming Kits for the Homeless - During January we will collect Warmth Kits for the Homeless containing socks, mittens, knit hats, and a $10 fast food gift card. Please return your kits by January 31 or contact Amy at 614-424-6050x100 to make other arrangements.

NNEMAP Needs - Donate books for all ages, baby wipes, large-size diapers (size 5 and 6), grooming items (dental items, razors, and shampoo, and feminine hygiene items). We would especially appreciate Purell and wipes for COVID-19. Thank you for your generosity!
Continuing News - Worship, Faith Formation, Fellowship, and Support
10:00am Sundays: Inter-Generational Virtual Sunday School Class - This is for children and families. Before you login at 10 am on Sunday mornings, watch the Godly Play video (posted every Friday). We will talk about the story together during class. Click HERE to learn more about Children's Connections.

10:00am Sundays: "Inside Out" Youth Sunday School - Youth will be will be connecting biblical stories of faith to five key characteristics of growth in our lives: developing a growth mindset, resilience, compassion, boundaries, and integrity. Stories of faith will include: The Queen of Sheba, David and Jonathon, Shadrach, Meshach, and Abednego, Mary and Martha, and examples from the life of Jesus. This virtual Sunday School class is for all youth in 6th to 12th grades. We will meet on Zoom every Sunday morning at 10 am. Please contact Gwen with any questions: gwen@kingave.org Click HERE to learn more about Youth Connections.

Automatic Payments in Realm - Do you give via automatic drafts in Realm? These drafts "stop" after December 31 each year. To continue your draft into the new year, please remember to set this up for 2021. If you have questions, please email Charlene Dubin at charlene@kingave.org. Thank you for your gifts.

Chancel Flowers - If you are interested in signing up to donate Chancel Flowers for worship in 2021, please use this form. You can specify that your flowers be listed in the bulletin in memory or honor of a person or notable event. The arrangement is yours to take home at the end of that Sunday's service.

LifeCare Alliance COVID-19 Utility Assistance Program: Relief is available for families facing pandemic-related hardship. Many central Ohio families have felt the effects of COVID-19 on their employment and ability to stay current on utility bills. Now, LifeCare Alliance is providing assistance to help avoid shutoffs as we navigate the pandemic. If you or your family has experienced furloughs, a reduction in work hours, layoffs, or similar situations related to the COVID-19 pandemic, you are invited to apply for this assistance. LifeCare Alliance can assist with utility bills - Electric, Gas, Water. Funds are limited, so please contact us today to get the process started. For more information, please contact: John Gregory jgregory@lifecarealliance.org or 614-437-2803. CLICK HERE to download the flyer.

First Sundays: Youth Group - Youth Group for 6-12 graders happens the first Sunday of each month at 4:30pm via Zoom. The Zoom link and more information is available on the Youth Connections page, on Facebook, and Realm.. Contact Erin or Gwen with questions!

CORE Youth Center is a virtual place for youth! Are you looking for online faith resources for your youth (6th to 12th grades)? King Avenue UMC's Children and Youth Education Program created an inclusive and affirming website to fit this need. Think of this as a home base as you stretch, grow, and explore your faith and your identity as a Jesus follower. What you believe, think, and feel will change during your Middle and High School years. And your journey will not end when you graduate. Our faith journeys continue for our whole lives. Check out the CORE Youth Center here: https://sites.google.com/view/coreyouthcenter/home and contact Gwendolyn DeRosa at gwen@kingave.org if you would like to help create new content.

Small Group Welcomes Young Adults - The Next Chapter virtual small group led by Amy Oblinger, meets every Wednesday at 6 on Zoom. This young adult group discusses participants' thoughts about and reactions to that week's sermon, whether it was seen in-person on Sunday or watched from the comfort of home. The session sometimes includes discussing current events and studying the scriptures, and always includes time to pray for each other. The group welcomes new participants. If you are interested, contact amylianne@gmail.com for the Zoom link.

The Harbor Post-High School Community - The Harbor is a post-high school community of faith and fellowship for young people (through age 24). This is a safe space for support, connection, and refreshment before heading back out into different directions. The Harbor is faith-based since many of us are connected to King Avenue UMC in Columbus, OH, but it is also a place where faith and life questions are encouraged and welcomed. We expect and celebrate the ways in which our beliefs evolve and change during life transitions. The Harbor affirms and works for the inclusion of all people, including all gender identities, LGBTQ folx, all races and ethnicities, all (dis)abilities, and all religious traditions. Keep up on events through our Facebook group.

Pastor Colleen Open Office Hours - We live in challenging times. One of the blessings of Christian life is that we share our burdens with one another and with God. If you are grieving, feeling dispirited, anxious, overwhelmed, or simply would like conversation and prayer, Pastor Colleen Ogle is available. She will hold Monday evenings 7-9 pm and Tuesday afternoons 3-5 pm for conversations by phone, on-line through Zoom, or in-person. Please email colleen@kingave.org to make arrangements. In the email, please indicate when you are available, whether you want to talk by phone, zoom, or in-person and you will receive a prompt response with information about how to proceed. You may also share if you need a different time to talk.

Pastoral Visits to Hospital & Extended Care Facilities - At present the church building is only open for worship. Although pastors are not yet permitted to visit persons in hospitals or extended care facilities, we do want to know when persons have health concerns. Please include these in the prayer concerns or contact a pastor directly jkeeny@kingave.org or colleen@kingave.org.
Volunteer Opportunities
Ushers and Greeters Needed - We need your help to make sure everyone at church feels welcome and stays safe! Volunteers are needed to greet and usher at both the 9:00 and 11:00 services. If you are interested, please email Beth Aiello, beth@kingave.org, your name and which service. Thank you for considering supporting this important ministry!

Audio-Visual Volunteers Needed - We are looking for some folks who would like to learn how to help with live streaming our 9:30 and 11:00 services. You don't need a lot of experience; we will train you! Please email beth@kingave.org if you are interested.
Back