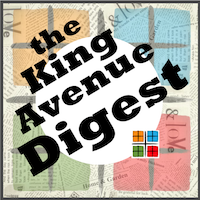 King Avenue Digest 10/16/20
October 16, 2020
The Newest Announcements for your Attention
Begins October 21: Walk it Out, A Prayer Journey for Transformation - As part of the Comprehensive Campaign, prayer stations will provide an opportunity to reflect upon KA's past, present and future. We will offer thanks for those who have sacrificed to pave the way for us, and prayers that we will continue to build the foundation for a vibrant KA ministry, both now and in the future. Join your faith family on Wednesdays: October 21st, October 28th, November 4th, and November 11th, Noon – 1 p.m. or 6:30 p.m. – 7:30 p.m. Social distancing and mask wearing will be observed.

October 23: Probing The Pandemic From A Jungian Perspective Presented by Dr. Richard Sweeney - Attend this webinar on Friday Evening, October 23 from 7:30 pm - 9:00 pm. CLICK HERE to learn more and register.

October 24, 2020 at 7 PM: The Black Panther: Anti-Racism Movie Discussion (Hosted by our Children & Youth Education Program) - Diverse representation in media is a vital component to dismantling racism in our society. In this virtual discussion on Zoom, we will discuss the aspects of anti-racism portrayed in the Marvel film The Black Panther. Please be advised that this movie is PG 13. You do need to watch the movie before the discussion in order to participate fully in the conversation. Details on Realm and Children & Youth Facebook Groups. Email Gwen with any questions or concerns: gwendolyn.derosa@gmail.com

October 25: Spectrum Outing at Battelle Darby Creek Park - Please plan to join Spectrum on Sunday, October 25 at Battelle-Darby Creek Park. We'll meet at the Nature Center (1415 Darby Creek Drive, Galloway, OH 43119) at 2:00 to enjoy the beautiful colors of the season. Some folks might choose to take a walk or a hike through the different paths, while others might just choose to stay close by the Nature Center and relax at a safe distance. Whatever your choice may be, we hope we'll see you there!

October 25: Lit Club - Join Lit Club on Sunday, October 25 at 7pm to discuss the book know my name by Chanel Miller. "One of the most powerful books I have ever read." - John Keeny

Upper Room Devotional Books - The Upper Room devotionals for November and December are available for pickup at the west and south parking lot doors.

A Prayer - Lord, what is Your will for my life in this matter as it relates to Your will for our church at this time? What do You want to do through me as it affects what You are trying to do through our church?" This prayer is in the Commitment Guide for King Avenue's "Coming Together for Transformation" campaign. I hope you are aware of the campaign and have been reading the literature that you have received at home and is available online on the Comprehensive Campaign Page on our online worship site and at kingave.org. Please take 30 minutes now to read about the campaign. I hope you plan to attend one of the information meetings this week. In the coming weeks, as we approach Commitment Sunday on November 15, I'll write about why I am committed to the campaign and am enthusiastic about it. READ MORE.

Comprehensive Campaign Video - Please watch this video created especially for the Comprehensive Campaign 2020 on King Avenue's YouTube channel. Special thanks to Dave Smalarz, the potter, Andy Poole for the narration; and Andy Brennan for video editing.

Reflection on Proposed Separation - Since the mailings about King Avenue's exciting Comprehensive Campaign were received, many of you have asked about the relationship of our church with the United Methodist denomination because of the incompatible stance against LGBTQI persons and inclusive churches. In short, the significant difference is the January 2020 announcement of the Protocol for Reconciliation and Grace Through Separation. I recognize that this announcement may have gone under the radar for many due to all of the distractions this year has posed, but because of this Protocol, it gives me the confidence to recommend the re-starting our Comprehensive Campaign which is so needed for our future ministry. READ MORE

Children's Connections - Participate in Children's Connections Sunday School at 10 am every Sunday. This is a wonderful way for parents and children to grow in their faith together. Click HERE to learn more about Children's Connections.

Youth Connections - Youth virtual Sunday School class is offered each week for youth in 6th to 12th grades. We will meet on Zoom every Sunday morning at 10 am. Reading the book "This Book is Anti-Racist" is suggested. We will discuss 2-3 of the sections during each class. It's incredibly important for our youth to connect their growing faith to the issues and concerns of daily life. Over the next couple of months, we will connect our relationship with God to the challenges of racism. We will learn how to become anti-racist as a faith community. Click HERE to learn more about Youth Connections.

Small Group Study- Feeling disconnected from your King Avenue church family? Would you like to be part of a small group conversation around the upcoming sermon series? Would you like to be part of a small group conversation around the upcoming sermon series? Or...Would your existing small group like to participate in the upcoming church-wide sermon series study together? In October, John and Colleen will begin a sermon series using scripture and Generosity: Responding to God's Radical Grace in Community by Tim Keller. Groups meet once a week for four weeks via Zoom or potentially in socially distant in-person sessions. Small groups will meet to discuss the previous Sunday's sermon. Group leaders will have an outline and discussion questions for each meeting. The Small Groups will be held Sunday at 8:00 PM, Wednesdays at 7:00 PM, or Thursdays at 7:00 PM. Existing small groups may take part in this study during their "normal" meeting day/time. CLICK HERE TO SIGN UP. Questions? Contact Bret Baird at brethbaird@yahoo.com or 614-302-9273 or Susan Taylor at susan1taylor@aol.com or 614-596-5843.
Back