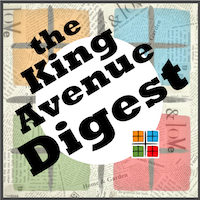 King Avenue Digest 12/2/22
December 2, 2022
UPCOMING EVENTS AND NEW ANNOUNCEMENTS
ASL Interpreters - King Avenue will be providing Interpreters for both services this Sunday (December 4) as well as during the 7pm Christmas Eve worship service.

Pledge Cards and Autopay - Pledge cards are still being gratefully accepted! Your pledge helps us to set the budget for the 2023 fiscal year, so we appreciate your generosity and cooperation in this endeavor. Besides a paper pledge card, you can specify your pledge electronically in Realm. Remember, even if your giving amount remains the same, we still need to know that for our 2023 budget. If you have set up autopay for your tithes and offerings, you can set that up in Realm as well. Please contact the church office if you need any help setting up your pledge or autopay.

Now through December 4: Poinsettia Orders - Poinsettias are displayed throughout our Sanctuary during the Advent season. The cost of one poinsettia is $15. Your donations will be included in the 7:00pm & 9pm Christmas Eve bulletins on Saturday. December 24. Poinsettias are available to take home after the services. Please submit your payment and necessary information by Sunday, December 4. Please attach your payment to the order form, and place in offering plate or turn into the church office. Make checks payable to KING AVENUE UMC and indicate POINSETTIA on memo line. Payment may also be made on Realm. CHRISTMAS POINSETTIA ORDER FORM

Saturday, December 3: Disaster Relief Kits - Volunteer with the United Women of Faith to assemble Hygiene Kits and Period Packs for UMCOR. Join us on Saturday, December 3, 10 AM to Noon in the Fellowship Hall. UWF (United Women of Faith) will provide all supplies for 200 kits. The average cost is $13 per kit. To help offset cost of supplies, please donate to "UWF Umcor Kits" via check or cash. To donate on Realm, select the "UWF UMCOR" fund. Cookies, coffee and tea will be provided for our volunteers. Questions? Contact Carmen at 614-582-5470 or Gwen at 614-749-0152

November 27 - December 18: The Season of Advent - Please keep your eye on the website for events related to Advent so that you can prepare your hearts for the birth of Jesus. You will also find a card in the pews that contains all of the events in one place. Hang it on your refrigerator or give a copy to a friend. CLICK HERE FOR MORE INFO

Prepare for Christmas with Pastor Linda - Advent (which derives from the Latin adventus or "coming" is a time of active waiting. It is not sitting passively but preparing as we wait. It encourages us to use this waiting time wisely. I have always been intrigued with the idea of "time" in the scriptures. Time is a universal and equalizing dimension for humans, but God stands outside time. Can an eternal God really understand how precious time is to us? Is the whole Christ event, the incarnation of God in the flesh, about God experiencing time as we do? What does the Bible and Jesus teach us about time? How do we use this "waiting time" wisely? Join me over the next 4 weeks as we examine the concept of time in the Bible. Each day there is a short Bible passage, my brief thoughts about the passage, a prayer, and a challenge for the day. The readings will take 2-5 minutes daily. CLICK TO DOWNLOAD ADVENT DEVOTIONS

December 3, 10, & 17: Food Donations - Dennison Place Neighborhood Association requests that King Avenue UMC once again provide the location for the neighborhood December Food Drive on Saturdays, December 3, 10 and 17. There will be a collection tub under the entrance canopy on the south side of the church early Saturday morning, and pick-up donated food at dusk. If you'd like to participate, donations are welcome. Food donations go to NNEMAP.

Tuesday, December 6 at 11:30: Retirees Christmas Celebration - Join the Retirees Ministry as we celebrate the Christmas season with singing, food, and fellowship on Tuesday, December 6th at 11:30 in the King Avenue Church Chapel and Parlor. Dave Bowermeister will lead us in carols in the Chapel followed by a White Elephant Gift Exchange. Please bring a gift that is re-cycled, re-gifted or purchased (no more than $10) for the White Elephant Gift Exchange. We are requesting that your gift be placed in a GIFT BAG for easy access! Following the gift exchange, we will have a potluck-style lunch. The Retirees Lead Team will provide a ham. You can provide a side or dessert!

Now Through December 7: Bethlehem on Broad Street - King Avenue will be working with other area churches to love our neighbors. This year, BOBS will be distributing hygiene and survival supplies. King Avenue has committed to providing 75 backpacks with hygiene supplies and 75 bags of survival supplies. You can pick up the lists and the bags in the back of the worship space and return them no later than December 7. In lieu of providing supplies, you can also make a monetary donation through Realm or by contacting the church office. We are also looking for volunteers to help with the event on December 10. If you're interested, contact Shawn Compton at comptonlaw@msn.com. If you want to read more about this event and how you can become involved, CLICK HERE.

Now Through December 11: Hubbard Holiday Help - The Giving Tree is back! We have the opportunity to love and serve our neighbors at Hubbard Elementary School by giving some of the students Christmas gifts. Stop by the Giving Tree in the back of the milling area to pick up tag with a Hubbard student's age and gender on it and bring back the gift (up to $25 per student) on Sunday, December 11. Be sure to attach your tag with your unwrapped gift. We will deliver the gifts to Hubbard that week. Alternatively, you can make a donation and designate it for Hubbard School to help with this ministry.

Sunday, December 11 at 4:00pm: HeartSong and Friends Holiday Concert – Come join HeartSong and Friends for a musical Christmas extravaganza! This season joining us are our very own organist, Andrew Willis, our Associate Pastor Andy Burns, Pam Springer and Tom Trinter. This event will benefit the children at the orphanage in Mexico. Invite friends and family to share an afternoon listening to the Wonders of the Season! Use this DIRECT LINK in Realm to make a donation to Casa de Misericordia Orphanage. Thanks in advance for your generosity!

December 16, 5:30-8:00pm: Spectrum and Children, Youth, & Family Ministries Christmas Cookie Decorating and Movie Night - Come join Spectrum and the Children, Youth and Family Ministries for a night to get in the Christmas spirit! We will be gathering at 5:30 pm to enjoy some pizza together and begin cookie decorating (not baking). We will be providing sugar cookies and cookie decorating items, however anyone can bring decorating items that they wish to use! At 7 pm, we will begin "The Grinch Stole Christmas" which will last about 40 minutes. Please stay and help us clean up after! ALL ARE WELCOME! Any questions? Contact Ada at ada@kingave.org

Sunday, December 18, 9am & 11am: A Service of Lessons & Carols - Join our musicians and instrumentalists for a service of music on December 18 at both the 9am & 11am worship. Come in person, bring a friend, or watch the live-stream.

Sunday, December 18: Lit Club - Lit Club will be meeting on the 18th of December since the last Sunday of this month falls on Christmas. The group will meet at 7pm in the Logos Lounge to discuss People Love Dead Jews by Dana Horn. Get ready for the January conversation on Sunday, January 29 to talk about The Seven Husbands of Evelyn Hugo by Taylor Jenkins Reid. That will also be at 7pm in the Logos Lounge.

December 19-22: NNEMAP Christmas Shoppe - NNEMAP Food Pantry is gratefully accepting donations of NEW, UNWRAPPED GIFTS for children. Donors like you helped NNEMAP Food Pantry provide gifts for nearly 1,200 kids in 2021. We will probably need more presents than last year. We are seeing 50% more families than last year. While unwrapped gifts are the priority, cash donations are also helpful. We can then go out and purchase items for those age groups or boy/girl where we are running low on presents. Volunteers are also needed. The Gift Shoppe is Open December 19 thru December 23, 2022, 9am-1pm at Linden Life Fellowship at 877 E. 11th Ave, Columbus, OH 43211. If you would like to volunteer, please contact Roy Clark at director@nnemappantry.org or call 614-297-0533

December 21: Blue Christmas Worship - Sometimes, December isn't the most wonderful time of the year. Maybe you lost a loved one in the last year and this is the first holiday season without them. Maybe a loved one died years ago, and this time of year reminds you of their absence. Maybe you lost a job and you're not sure what happens next. Maybe your year didn't go the way you thought it would or hoped it would, and you're left feeling disappointed and confused. In the midst of this busy season, we are going to take a break from the seemingly relentless positivity and acknowledge the big, complex feelings we all hold. On December 21 at 7pm, we will gather for a Blue Christmas service to remember our losses, hold space for experiences that aren't so holly and jolly, and remember the hope and healing that is always offered to us, even in the midst of the darkest night. This event will not be livestreamed, and child care will not be available.
ADVENT/CHRISTMAS WORSHIP
Service of Lessons & Carols – Sunday, December 18 at 9am & 11am (livestream at 9am & 11am)

Blue Christmas Worship – Wednesday, December 21 at 7pm

Family Christmas Eve Worship – Saturday, December 24 at 4:30pm

Christmas Eve Candlelight Worship – Saturday, December 24 at 7pm & 9pm (livestream and ASL interpreter at 7pm)

Christmas Morning Worship – We will have one combined worship service on Sunday, December 25 at 10am in the Sanctuary (livestream at 10am.) Please note that there is no Sunday School or Worship Connections on Christmas morning.

New Year's Morning Worship – We will have one combined worship service on Sunday, January 1 at 10am in Fellowship Hall (livestream at 10am.) Please note that there is no Sunday School or Worship Connections on Christmas morning.
CONTINUING NEWS
King Avenue History Books Available - King Avenue History Books will go on sale beginning Sunday Nov. 6, 2022 and continue throughout Advent. The cost is $15.00 each - cash or check only. We still have unclaimed complimentary books to distribute, Don't be shy! Please check on yours! Look for the King Avenue History Book table at the conclusion of each worship service throughout Advent.

THANK YOU HISTORY COMMITTEE! Thanks to the Centennial Committee - especially Angela Finney - for our Centennial Contemplations! Read all of the questions and answers at the CENTENNIAL CONTEMPLATIONS PAGE.

Theme for 2022-23 - Your church staff has chosen a theme for this 2022/23 year, and it is "Home." King Avenue is that for so many, a home that is accepting, loving and empowering. Our desire it to share that sense of home with all whom we encounter, whether they are currently part of congregation or not. You will hear us refer to home in a variety of ways this year as we kick off our fall events for our adults, our children, and youth. We welcome all of you home! We are looking forward to seeing you come back to King Avenue this fall. Welcome Home, dear friends. READ MORE

Art Gallery is a King Avenue Museum! Thanks to Kurt Reichert who has been working for weeks on a display to transform the King Avenue Art Gallery into a museum. As part of our Centennial Celebration, there will be 45 posters that will walk visitors through a timeline of our church and building(s). The gallery will officially open on Sunday, September 11 to be part of the Fall Kickoff.

Chancel Flowers for Worship - If you are interested in signing up to donate Chancel Flowers for worship, please use this form. You can specify that your flowers be listed in the bulletin in memory or honor of a person or notable event. The arrangement is yours to take home at the end of that Sunday's service.
FAITH FORMATION, FELLOWSHIP, AND SUPPORT
First Sundays are Communion Sundays! On the first Sunday of every month, there is no Worship Connections. Everyone is invited to fully participate in worship services and communion. For parents and kids 4 yrs to 5th grade, there is Family Godly Play in the Chapel at 10 am. No other parent or children's Sunday School class will take place on the first Sundays of the month. The CORE Youth Group will still meet in Donnenwirth for their SS class.

Ongoing Children, Youth, Family Opportunities - Check our website for our ongoing opportunities for Children, Youth, and Families. This includes our ongoing children and youth Christian education, faith formation, community and fellowship, and ways you can stay connected. CLICK HERE for our Children, Youth, and Family Page on the King Avenue website.

Last Sundays of the Month at 7pm: Lit Club - Join the Lit Club on the last Sunday of each month at 7pm in the Logos Lounge. All are welcome! Simply read the book of the month, and get together to talk about it. In December, Lit Club will be meeting on the 18th since the last Sunday of this month falls on Christmas. The group will meet at 7pm in the Logos Lounge to discuss People Love Dead Jews by Dana Horn. Get ready for the January conversation on Sunday, January 29 to talk about The Seven Husbands of Evelyn Hugo by Taylor Jenkins Reid. That will also be at 7pm in the Logos Lounge.

Home Groups - King Avenue wants to help you grow in your life with Christ. This happens in powerful ways through consistent small groups that meet outside of Sunday morning church. So we want to start Home Groups. These will be groups of 7-12 people who live in the same general area as each other. They will gather weekly or semi-weekly in someone's home to pray together and grow together. We would love to get you connected with other King Avenue folks who live around your home so y'all can grow in Christ together. If you're interested in being a part of a Home Group, let Pastor Andy know (andy@kingave.org). Days and times will vary depending on each group's schedule preferences.
OPPORTUNITIES TO HELP
November Item of the Month for NNEMAP - Each month, we are going to focus our donations on specific items our community partners. You can bring your donations with you on Sundays. There will be a place to leave them in the back of the worship space. Please donate holiday side items (canned corn, yams, mashed potatoes flakes, etc.) and bar soap for NNEMAP during the month of December.

Habitat for Humanity Team - Habitat for Humanity really could use your help! There are no set commitments that volunteers have to make, so you can come out and help when you are able, even if you are only able to work once on this year's house. Trena Brown will be communicating each week's work schedule with our Habitat team and coordinating our volunteer requests with our house lead. If you are interested in learning more about King Avenue's mission work with Habitat for Humanity, or know that you want to volunteer your time and talents to this effort, please contact Trena at trenamo@columbus.rr.com or Larry Ziniel at larry_ziniel@yahoo.com. Working with Habitat for Humanity is fun, satisfying and a great way to learn new skills from a very experienced team of builders!

About Habitat for Humanity - Starting with the 2015 build season, KAUMC has been part of the Hilliard Adopt-A-House (HAAH) affiliate of Habitat for Humanity Mid-Ohio. Hilliard Adopt-A-House is a non-profit 501(c)3 charity that is one of six local church partnerships that annually build or renovate houses for deserving low income Central Ohio families. Established in 1996, HAAH currently consists of Hilliard UMC, St. Brendan the Navigator Catholic Church and St. James Lutheran Church (all in Hilliard), Linworth UMC, Indian Run UMC and Amlin UMC (both in Dublin) and of course King Ave. UMC! Over the past 26 years this dedicated group has built thirteen new homes and also rehabilitated thirteen existing homes for deserving families. Habitat for Humanity International is an ecumenical Christian housing ministry. Habitat affiliates work locally in communities around the world to select and support homeowners, organize volunteers, and coordinate house building. Since its founding in 1976, Habitat has built more than 400,000 homes worldwide, providing shelter for more than 1 million people in nearly 90 countries. In the Central Ohio community, Habitat has built more than 400 homes since 1987. READ MORE and WATCH A VIDEO INTERVIEW

UMCOR Global Response: Ukraine - Support the people in Ukraine by making a gift to UMCOR's international disaster response. 100% of your donation goes to the cause. CLICK TO GIVE.

Lunch Packing - King Avenue packs lunches for the Open Shelter on several Tuesdays and Thursdays, and occasionally on Wednesdays... 35 times in 2022. All hands on deck for packing 200-400 lunches at a time! CLICK HERE for the schedule, and join when you're able. All days/dates are 6:00pm in the King Avenue kitchen. Many hands make light work!

Volunteering on Sundays - Hey King Avenue Families! There are still opportunities for you to volunteer in Sunday morning children's programming by leading youth Sunday School or learning Godly Play storytelling. Contact Gwen at gwendolyn.derosa@gmail.com if you are interested in learning more.

Serve as an Acolyte - Are you interested in participating in worship as an acolyte? We have opportunities during 9am and 11am for anyone who is at least 10 years old (adults can acolyte, too!) to serve King Avenue as an acolyte. Please talk to Marlene if you'd like to take part in this ministry opportunity.

Ushers and Greeters Needed - Be the first friendly face someone sees at church! Our ushers and greeters keep folks safe and make them feel welcome. If you would like to help with this important ministry, please email Pastor Andy - andy@kingave.org.

Audio-Visual Volunteers Needed - We are always looking for some folks who would like to learn how to help with live streaming our 9:00 and 11:00 services. You don't need a lot of experience; we will train you! Please email Pastor Andy - andy@kingave.org if you are interested.
Back