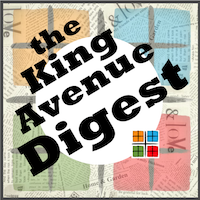 King Avenue Digest 2/20/21
February 20, 2021
Upcoming Events, Announcements, and Imminent Needs
Support King Avenue AIDS Walk - The AIDS WALK is Saturday, April 10, 2021. King Avenue is represented by the Spectrum. You may donate to the team by visiting the SPECTRUM - KING AVE team page at https://www.classy.org/team/317234. You can register to walk/run virtually or in person by visiting aidswalkohio.com.

Register by March 27: King Avenue Co-Ed Summer Softball - King Avenue UMC sponsors a Monday night softball team to play in the Columbus Recreation and Parks Department Summer I 2021 season, which begins April 26 at Berliner Park and continues for 10 weeks of regular season games (plus tournament, if eligible). This is a wonderful opportunity to meet new people and play ball. We participate in the Mixed Social division, which is co-ed and open to non-sanctioned persons of all skill levels, including beginner. Coaches are Jodie Brown and Mike Carey. Contact brown.jodie@gmail.com if you have questions. REGISTRATION DEADLINE is March 27. Cost to participate is $10. Game times vary by week. Earliest game start time is 6:10 pm, games may be as late as 9:30 pm. CLICK HERE to Register on Realm.

Now through Feb 21: Mercer Scholarship Application Process Begins - The Mercer Memorial Scholarship Fund has been established for the purpose of providing financial assistance to King Avenue UMC members who are students as follows: Persons enrolled in Christian education, missionary work, or ordained ministry in a graduate school or theological seminary accredited by The United Methodist Church; Persons enrolled in undergraduate school who have demonstrated a commitment to serving Christ through participation in the ministries of KAUMC. High school seniors may apply for a scholarship contingent upon their enrollment. If you are interested in applying for a Mercer Scholarship, email the church Office Manager, Amy Ashburn at amy@kingave.org, who will provide you with an application. Completed applications are due to the church Office Manager no later than February 21, 2021.

Beginning Feb 21: Lenten Book Chat - The Central Dinner Group is inviting anyone who would like to engage in lively conversation and study of the book, The Women of Easter, by Liz Curtis Higgs. The study focuses on seeing and experiencing Christ through Mary of Nazareth, Mary Magdalene and Mary of Bethany. Participants are asked to order their own book, which is also available in e-book and audio-book format. The group will meet on Zoom on Sundays at 7pm through Lent (2/17-3/28/21). You are welcome to join us for the Lenten Study and/or become a member of the dinner group after Lent! Anyone who is interested please contact Trecia Holdren at trinkhol137@aol.com or contact Jetta Mencer at JettaMencer.com Join Zoom Meeting https://us02web.zoom.us/j/89716443814?pwd=MFM5VjBPV0VYMVdoSE1JL3VjMnY1dz09 (Meeting ID: 897 1644 3814 Passcode: 132163)

Feb 23-March 30: Words of Life Lenten Study - Join us Tuesdays from 7:00-8:15pm on Zoom for a study and discussion. Bestselling author Adam Hamilton brings modern eyes to the most famous set of rules in history, recovering the Ten Commandments as more than just a set of onerous prohibitions. He considers the commandments in their historical context, unpacking the meaning of each commandment in Hebrew, how Jesus reinterpreted them, and how Jews and Christians have understood them over the millennia. He also explores how the latest research in science and psychology illuminates these commandments, rightly understood as a way of ordering one's life beautifully in the present day. In a culture marked by workaholism, materialism, and social media-driven envy, God has given us a time-tested path that leads to gratitude, confidence, and peace. Led by Rev. Colleen Ogle. CLICK HERE to Register on Realm. Join Zoom Meeting https://us02web.zoom.us/j/85909137774?pwd=UVN6eFRaYVlEYktya09oQUE5N25Vdz09 (Meeting ID: 859 0913 7774 Passcode: 505560)

Feb 24 - March 31: Entering the Passion of Jesus Lenten Study - Join us Wednesdays from 6:30 - 7:30 on Zoom for a study and discussion of the last days of Jesus' life from the triumph of Palm Sunday to the agony in the Garden of Gethsemane. This class is led by Rev. John Keeny. The class will use the book, "Entering the Passion of Jesus: A Beginner's Guide to Holy Week" by Amy-Jill Levine. You may either purchase the book on your own or order it through the church. CLICK HERE to Register on Realm. (Meeting ID: 826 7384 1176 Passcode: 954499)

Now through March 10: Exploring the Spirit Through Art - Do you ever see a piece of art that just seems to speak to you? You do not have to be an artist to appreciate the language of art—for it is a language of the spirit, human and holy. Colleen Ogle would like to invite you to explore the spirit through the art and life story of Aminah Robinson, the renowned local artist whose work is featured now and in an upcoming months at the Columbus Museum of Art https://www.columbusmuseum.org/visit in an exhibit entitled, "Raggin' On: The Art of Aminah Robinson's House and Journals." Rev. Ogle believes that this exhibit conveys powerful hope and guidance for our community today. While you are at the exhibit, if you identify a piece of art that inspires, instructs, or deepens your awareness of yourself, your community, or the Spirit, please take a photo of the art piece with a camera or your cell phone, include a selfie too. If you get your photo(s) in by March 10, they may be part of an "Art Witness" during worship on March 21. LEARN MORE.

March 11 at 6:30pm: Spectrum Movie Discussion Night "Uncle Frank" - In 1973, teenaged Beth Bledsoe (Sophia Lillis) leaves her rural Southern hometown to study at New York University where her beloved Uncle Frank (Paul Bettany) is a revered literature professor. She soon discovers that Frank is gay, and living with his longtime partner Walid "Wally" Nadeem (Peter Macdissi) -- an arrangement that he has kept secret for years. After the sudden death of Frank's father -- Beth's grandfather -- Frank is forced to reluctantly return home for the funeral with Beth in tow, and to finally face a long-buried trauma that he has spent his entire adult life running away from." (Rotten Tomatoes) Please join your Spectrum friends on Thursday, March 11, 2021 at 6:30 p.m. to discuss this film. We'll get together in a Zoom meeting (link to be provided at a later date) and have a chat about the issues presented in the movie, which is available on Amazon Prime. Join Zoom Meeting https://us02web.zoom.us/j/88193694524?pwd=ZS80RVRIUEVMVlFQQ2JqSDVSVHhGdz09 (Meeting ID: 881 9369 4524 Passcode: 776798)
Continuing News - Worship, Faith Formation, Fellowship, and Support
Devotion booklets for Lent - Pick up your devotion booklet at the west and south parking lot doors. Lent begins on February 17.

CAN WE HAVE A WITNESS?! We are seeking persons to give a witness on how their faith is helping them live creatively at this time. If you have a story of generosity, gratitude, support, and/or connection during this time, we would love to have you share in worship. A witness builds up the faith of others. Please contact John Keeny, jkeeny@kingave.org.

Realm Photo Project - As we all know, we are saying farewell to Rev. Keeny when he retires later this year and welcoming a new Senior Pastor to our King Avenue family. In the interest of making the transition as easy as possible for our new minister, we are encouraging you to make sure you have a photo of yourself associated with your Realm account. Being able to put a face with a name is an important way to help our new minister get to know everyone, especially if we are still practicing social distancing. We hope you will join us get Realm in order through the Realm Photo Project initiative. 1) Check your Realm profile photo. Ideally, the picture is your head and shoulders, and you are the only person in the picture. If your photo is not clearly of you, if you don't have a profile picture, or if you have updated your look, please either add/replace your picture or email a new picture to beth@kingave.org to have it added for you. 2) Would you like to add a family picture? You can email one to beth@kingave.org to do this. Questions? Need assistance? Please feel free to reach out to Beth Aiello, beth@kingave.org. Thank you in advance for your help!

Jan 28-Feb 25: Visitor Fellowship – If you are a visitor worshiping either in-person or on-line at King Avenue Church, you are invited to participate in a new Visitor Fellowship. The Fellowship will meet virtually Thursday evenings, 6:45-8:00 pm starting Thursday, January 28 and continuing through February 25. Each session will feature a brief presentation of a topic related to United Methodist beliefs, practices, history or King Avenue congregational life followed by discussion and sharing our stories. At the end of the five sessions, you may take membership vows to formally join King Avenue United Methodist Church, but you are not obligated or expected to do so. The visitor fellowship sessions are valuable simply to help you get oriented to this community. To participate, please email colleen@kingave.org or call (614) 424-6050 Ext. 101. Join Zoom Meeting https://us02web.zoom.us/j/82625869468?pwd=QTE4OWlmUlE1dE9mNXh3ek5qc0tCUT09 (Meeting ID: 826 2586 9468 Passcode: 926540)

10:00am Sundays: Inter-Generational Virtual Sunday School Class - This is for children and families. Before you login at 10 am on Sunday mornings, watch the Godly Play video (posted every Friday). We will talk about the story together during class. Click HERE to learn more about Children's Connections.

10:00am Sundays: "Inside Out" Youth Sunday School - Youth will be will be connecting biblical stories of faith to five key characteristics of growth in our lives: developing a growth mindset, resilience, compassion, boundaries, and integrity. Stories of faith will include: The Queen of Sheba, David and Jonathon, Shadrach, Meshach, and Abednego, Mary and Martha, and examples from the life of Jesus. This virtual Sunday School class is for all youth in 6th to 12th grades. We will meet on Zoom every Sunday morning at 10 am. Please contact Gwen with any questions: gwen@kingave.org Click HERE to learn more about Youth Connections.

First Sundays: Youth Group - Youth Group for 6-12 graders happens the first Sunday of each month at 4:30pm via Zoom. The Zoom link and more information is available on the Youth Connections page, on Facebook, and Realm.. Contact Erin or Gwen with questions!

CORE Youth Center is a virtual place for youth! Are you looking for online faith resources for your youth (6th to 12th grades)? King Avenue UMC's Children and Youth Education Program created an inclusive and affirming website to fit this need. Think of this as a home base as you stretch, grow, and explore your faith and your identity as a Jesus follower. What you believe, think, and feel will change during your Middle and High School years. And your journey will not end when you graduate. Our faith journeys continue for our whole lives. Check out the CORE Youth Center here: https://sites.google.com/view/coreyouthcenter/home and contact Gwendolyn DeRosa at gwen@kingave.org if you would like to help create new content.

The Harbor Post-High School Community - The Harbor is a post-high school community of faith and fellowship for young people (through age 24). This is a safe space for support, connection, and refreshment before heading back out into different directions. The Harbor is faith-based since many of us are connected to King Avenue UMC in Columbus, OH, but it is also a place where faith and life questions are encouraged and welcomed. We expect and celebrate the ways in which our beliefs evolve and change during life transitions. The Harbor affirms and works for the inclusion of all people, including all gender identities, LGBTQ folx, all races and ethnicities, all (dis)abilities, and all religious traditions. Keep up on events through our Facebook group.

Small Group Welcomes Young Adults - The Next Chapter virtual small group led by Amy Oblinger, meets every Wednesday at 6 on Zoom. This young adult group discusses participants' thoughts about and reactions to that week's sermon, whether it was seen in-person on Sunday or watched from the comfort of home. The session sometimes includes discussing current events and studying the scriptures, and always includes time to pray for each other. The group welcomes new participants. If you are interested, contact amylianne@gmail.com for the Zoom link.

Wednesdays at 7:00pm: Isaiah 35 Fellowship - In these challenging times, take advantage of King Avenue's Isaiah 35 Fellowship, a confidential fellowship group offering acceptance, encouragement, community, and support for adults whose faith and hope have been challenged by mental health struggles. We meet every Wednesday night at 7 on Zoom. For more information, contact Mary Bostian at (614) 371-0171 or marybostian50@gmail.com

Administrative Council and Apportionments - On January 26, Ad Council voted to escrow 24 months of apportionment payments dating back to March of 2019, and begin paying apportionments in full on March, 2021. Based on communication with Bishop Palmer and evidence surrounding the status of King Avenue Church in our conference at this time, ACTS made its recommendation to Ad Council Tuesday night to hold in escrow 24 months of apportionments and then begin paying its apportionments in full. Please read the recommendation in its entirety. The reasons for the decision are well-stated. CLICK TO READ THE RECOMMENDATION.

COVID-19 Procedures Reminder - We are so happy to be with you in person at worship. So that we may continue to hold in-person services, we ask that you please refrain from bringing food or drink into worship with you and that you keep your mask on over your mouth and nose while in the church building. We are a church family; thank you for helping us care for one another.

Chancel Flowers - If you are interested in signing up to donate Chancel Flowers for worship in 2021, please use this form. You can specify that your flowers be listed in the bulletin in memory or honor of a person or notable event. The arrangement is yours to take home at the end of that Sunday's service.

LifeCare Alliance COVID-19 Utility Assistance Program: Relief is available for families facing pandemic-related hardship. Many central Ohio families have felt the effects of COVID-19 on their employment and ability to stay current on utility bills. Now, LifeCare Alliance is providing assistance to help avoid shutoffs as we navigate the pandemic. If you or your family has experienced furloughs, a reduction in work hours, layoffs, or similar situations related to the COVID-19 pandemic, you are invited to apply for this assistance. LifeCare Alliance can assist with utility bills - Electric, Gas, Water. Funds are limited, so please contact us today to get the process started. For more information, please contact: John Gregory jgregory@lifecarealliance.org or 614-437-2803. CLICK HERE to download the flyer.

Pastor Colleen Open Office Hours - We live in challenging times. One of the blessings of Christian life is that we share our burdens with one another and with God. If you are grieving, feeling dispirited, anxious, overwhelmed, or simply would like conversation and prayer, Pastor Colleen Ogle is available. She will hold Monday evenings 7-9 pm and Tuesday afternoons 3-5 pm for conversations by phone, on-line through Zoom, or in-person. Please email colleen@kingave.org to make arrangements. In the email, please indicate when you are available, whether you want to talk by phone, zoom, or in-person and you will receive a prompt response with information about how to proceed. You may also share if you need a different time to talk.

Pastoral Visits to Hospital & Extended Care Facilities - At present the church building is only open for worship. Although pastors are not yet permitted to visit persons in hospitals or extended care facilities, we do want to know when persons have health concerns. Please include these in the prayer concerns or contact a pastor directly jkeeny@kingave.org or colleen@kingave.org.
Opportunities to Help
Back