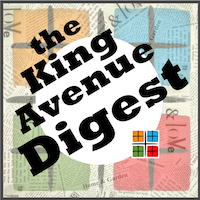 King Avenue Digest 6/21/20
June 21, 2020

The King Avenue Digest
---
Unpacking Christian Fundamentalism - If you grew up non-denominational, evangelical, or fundamentalist, this may be a class tailored just for you. What were you taught about the Bible and salvation? What did you think about human sexuality and gender stereotypes? If you've started to question the beliefs of your childhood or you want to unpack theology that is no longer life-giving, we invite you to join us. This class will be a brave space to consider different ways of understanding our faith. Click here to watch a video about the class, and Click here to register on Realm.

Flowers for Worship - If you would like to donate flowers for an upcoming worship service, please contact Amy Ashburn for more details, amy@kingave.org.

NNEMAP Food Pantry - You can resume bringing contributions of non-perishable food items for NNEMAP to the church. Thank you!

Book Drive and Little Free Library – thanks to Sheryl Lazenby, Stan Sutton, and the most recent New Member Class, King Ave UMC has its own Little Free Library on the Neal Avenue side of the building. This is the last week when we will accept donations of books of general interest for children and adults. If you want to make a donation at a later date, please contact colleen@kingave.org before bringing them in.

Reminder Regarding Food and Drink at Church - Food and drink will not be served before or after services when we resume in-person worship. We ask that you also not bring in food or drink to consume inside the building. We are adopting a no eating or drinking policy so that folks will not need to remove their masks while in the building, lessening the opportunity for respiratory particles to spread. Thanks in advance for helping us care for one another.

Re-opening Plan - The leadership of King Avenue Church is glad to announce that, along with the recommendations and guidelines set forth by the State of Ohio and the Centers for Disease Control, we will begin a slow re-opening process for worship activities at King Avenue Church beginning Sunday, June 14. Online worship will continue to be an option, too! READ MORE about the service times and safety measures.

Change in Re-Opening Plan - Please note that this first phase of re-opening will NOT include 8am in the Sanctuary as previously stated. We are postponing the start date for the 8:00 am worship service until later in the summer. The 8:00 am worship service is designated for persons with high risk of serious illness from COVID-19, and we have learned that few persons in the high-risk category feel ready to enter public spaces.

Greeters and Ushers Still Needed! In order to ensure safety of everyone during our three in-person services each week, additional help is needed in ushering and greeting. Don't worry if you are new to this role. You will receive training. If you're willing to lend a helping hand and a friendly (masked) face to the team, please email Beth Aiello, Director of Support Services, at beth@kingave.org. Please give your name and whether you'd like to serve at the 8:00, 9:30, or 11:00 service.

Pastoral Visits to Hospital & Extended Care Facilities - At present the church building is only open for worship. Although pastors are not yet permitted to visit persons in hospitals or extended care facilities, we do want to know when persons have health concerns, please include these in the prayer concerns or contact a pastor directly jkeeny@kingave.org or colleen@kingave.org.
Virtual Pride Worship - If you missed the PREMIER of the Virtual Pride Worship on Friday, June 19, it's not too late! Clergy and lay persons from Central Ohio Reconciling Ministries Network Churches/Communities and ally churches have put together a meaningful worship service including a Virtual Community Pride Choir as part of the service! Visit the website (bit.ly/cbusprideworship2020) at your leisure to view the worship video, and to learn more about the Central Ohio Reconciling Ministries Network.

Pride Worship Service Dedication - In the midst of a great reckoning on race in this country, and on this anniversary of Juneteenth, which marked the end of legalized slavery, we dedicate our annual Pride Worship service to LGBTQ activist, Marsha P. Johnson (1945-1992). Rooted in the AME church, Johnson was a transformational advocate for gay rights and a courageous leader in the Stonewall uprising of 1969. "No pride for some of us without liberation for all of us." – Marsha P. Johnson

Additional Upper Room Resources for COVID-19 Pandemic - The Upper Room daily devotional is offering Resources for Spiritual Wellness in Anxious Times for our church during the journey through the COVID-19 wilderness we're all navigating. This includes timely practices for individuals and families including digital devotionals, link to morning prayer on Facebook Live, videos, e-courses, podcasts, etc.

Our Mission Statement - "We invite, welcome and honor all people and nurture them to grow in service with Christ."

Our Vision Statement - "We are a community of servants called by God's reconciling grace to open doors of sanctuary, to create new avenues of ministry, to equip Christians for discipleship, to lead reconciling ministries."
Back