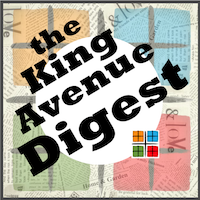 King Avenue Digest 7/10/20
July 10, 2020
THE KING AVENUE DIGEST - JULY 3, 2020
---
Sympathies - We extend our deepest sympathies to to Dan Bidelspach whose father, Robert Bidelspach, died on 7/1/20.
Peace with Justice Offering, Sunday, July 12 - Moved by Christ's love to pursue reconciliation and peace, honoring the dignity of every individual made in God's image, The United Methodist Church is unwilling to turn a blind eye to injustice. Although you, and possibly even your congregation, may lack the resources alone to effect change in a broken world, your giving is vital for the UMC to continue its global ministries of reconciliation. Because of the Peace with Justice Sunday offering, the people of The United Methodist Church are able to make a difference together by sowing seeds—and yielding fruit!—of peace. Recent grant recipients include a Florida ministry to keep young adults out of prison; anti-racism events in Michigan; advocacy for immigrants in Arizona, Illinois, Michigan and Texas; interfaith support for vulnerable people in Wisconsin; congregation-based community organizing in Alaska; an Illinois summit on the right to clean water; a solidarity visit to the Holy Land; election monitoring in the Democratic Republic of the Congo; and a conference focusing on the importance of the church in Europe. Half of your offering will remain in the West Ohio Conference for Peace with Justice Ministries. CLICK HERE to give.

King Ave Players presents Digital Miscast Cabaret, July 21, 2020 at 7:30 – You'll see some of our most talented performers from the past few years. All of them, of course, singing parts in which they would NEVER normally be cast! Go to King Avenue Players Faceook page, facebook.com/KingAvePlayers on Tuesday, July 21 at 7:30pm for the premiere. This show has traditionally been a fundraiser for the King Avenue Players ministry. In appreciation for the support King Ave Church provides King Avenue players, all donations from Miscast this year will be given to the church to support the maintenance of the building and other projects. To donate, please visit bit.ly/Miscast2020 or text KINGAVE KAP plus amount (example: KINGAVE KAP 20 for a $20 donation) to 73256. Giving is easy and secure. Thanks in advance for your generous contributions!

SAVE THE DATE for Changing the Conversation Series – This year's Changing the Conversation Series welcomes Dr.Wendy VanderWal Gritter on Sunday, October 11 from 7:00-8:00pm. A rules-based approach to sex hasn't served the church very well. The harm runs deep. There must be a better way. Dr. Wendy VanderWal Gritter will help us understand how reclaiming our agency, sharpening our discernment, sharing wisdom and mutual support, and focusing on flourishing are steps to embracing God's good gift of sex. Learn more about the program, Let's Talk About Sex: An Ethics Conversation for All, by visiting our website at kingave.org.

July Lit Club - All are welcome to join in the discussion of The Sympathizer: A Novel by Viet Thanh Nguyen on Sunday, July 26 at 7pm on Zoom. https://us02web.zoom.us/j/81766691290
New Life Community Outreach seeking new Board Member - The NLCO brings volunteers and guests together, providing a caring space where Short North underserved neighbors can enjoy breakfast, meet with an attorney, and seek medical care…all without cost. We are seeking a new Board Member with a passion for our mission, and non-profit or business experience to offer. Please contact jkeeny@kingave.org or don@dwcastle.com with the subject NLCO Board member.
Upper Room Devotionals - July/August Upper Room Devotionals are available at the south and west doors.
Flowers for Worship - If you would like to donate flowers for an upcoming worship service, please contact Amy Ashburn for more details, amy@kingave.org.
NNEMAP Food Pantry - You can resume bringing contributions of non-perishable food items for NNEMAP to the church. Thank you!
Pennsylvania Lot - Until further notice, the OSU lot on Pennsylvania Avenue is not available for Sunday worship parking. There are sufficient spaces in our lots and on the street.
Fall Rummage Canceled - The UMW Fall Rummage Sale has been canceled. Please do not bring any more items until further notice. Thank you!
Pastoral Visits to Hospital & Extended Care Facilities - At present the church building is only open for worship. Although pastors are not yet permitted to visit persons in hospitals or extended care facilities, we do want to know when persons have health concerns. Please include these in the prayer concerns or contact a pastor directly jkeeny@kingave.org or colleen@kingave.org.
Greeters and Ushers Still Needed! In order to ensure safety of everyone during our three in-person services each week, additional help is needed in ushering and greeting. Don't worry if you are new to this role. You will receive training. If you're willing to lend a helping hand and a friendly (masked) face to the team, please email Beth Aiello, Director of Support Services, at beth@kingave.org. Please give your name and whether you'd like to serve at the 8:00, 9:30, or 11:00 service.
Our Mission Statement
"We invite, welcome and honor all people and nurture them to grow in service with Christ."
Our Vision Statement
"We are a community of servants called by God's reconciling grace to open doors of sanctuary, to create new avenues of ministry, to equip Christians for discipleship, to lead reconciling ministries."
Back