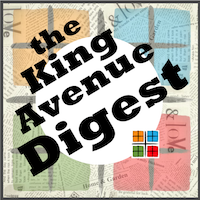 King Avenue Digest 8/12/22
August 12, 2022
CENTENNIAL CONTEMPLATIONS (Read ALL of the questions and answers on our Centennial Contemplations page.)
Q23: Left to right facing the windows, what phase of Christ's life does the middle window represent?

A23: Left to right facing the windows, the middle window in Swisher Chapel represents the Healing ministry of Christ: In green at the upper right, four "Tau" crosses or "Cross Potent" is symbolic of Christ's power to heal diseases of body and soul: the convolution in the center represents mental, physical, spiritual confusion, unrest and/or turmoil which are subject to Christ's healing power; the incense burner symbolizes prayer.

Q24: Left to right facing the windows, what phase of Christ's life does the fourth window in Swisher Chapel represent?
UPCOMING EVENTS AND NEW ANNOUNCEMENTS
We're Hiring a Part-Time Family Outreach and Events Coordinator - King Avenue UMC is a reconciling church where we invite, welcome and honor all people and nurture them to grow in service with Christ, and we are seeking a part-time Family Outreach and Events Coordinator. This dynamic person will be responsible for welcoming and connecting with children, youth families; support new families and new additions to the family; support pastors with integrating new families into the congregation; prepare materials as needed to aid children's participation in worship, develop and lead children's programs in seasonal worship opportunities; organize, promote and lead youth and family events; develop relationships with community organization; lead the children, youth and family mission and camping ministries. CLICK TO READ MORE

We're Hiring a Part-Time Stewardship Secretary - Currently we are seeking a part-time Stewardship Secretary. This team member would be responsible for handling general accounts receivable duties and tasks for the church. Areas of responsibility include but not limited to posting weekly contributions; balance reports; manage electronic giving; manage on-line accounts; work with volunteer counting teams, maintain various spreadsheets and prepare quarterly reports. CLICK TO READ MORE

August 18: Retirees to CMOA - Join the Retirees Ministry on Thursday, August 18th, for fellowship and fun as we explore the extraordinary works of Raphael. The Retirees Ministry will receive a special admission price of $10. If you wish to carpool, meet at the King Avenue Church parking lot at 11:00. Parking at the museum is $7. We will meet in the lobby of the museum at 11:30. A docent will be available for our group at 12:30 for the Raphael exhibit. We have a reserved space for lunch at 11:30. Bring your own lunch or purchase at the museum's café. You are encouraged to bring your own lunch due to the limited size of the museum café. Additional information will be posted on Realm. Please RSVP to Teresa Malloy (malloy29@aol.com) or Angela Finney (angelafinney51@gmail.com). CLICK TO LEARN MORE

August 19: Spectrum to Screen on the Green - Join Spectrum for Screen on the Green at Goodale Park! This month, they're showing Moulin Rouge. The movie starts at dusk. Bring a lawn chair or a blanket and meet us at Goodale Park's shelter house at 7:30 so we can all sit together. We'd love to see you! Spectrum Facebook Event

August 25: Coming Out with God - The Coming Out With God small group resumes Monday, August 25 at 7pm. COWG is a peer-to-peer support group for LGBTQIA+ Christians. Many of us struggle with aligning our faith and our identity, especially after experiencing religious trauma. Or some of us may have anxiety when we think about coming out to other Christians in our lives. God loves and celebrates the authentic and unique you! This confidential, drop-in group will discuss a variety of topics related to the challenges of coming out to ourselves and others. COWG will meet twice a month (first and third Mondays) in the Logos Lounge. Questions? Contact Pastor Andy

August 28: Lit Club - Get in on the conversation by reading this month's book, and getting together on Sunday, August 28, 2022 at 7:00pm in the Logos Lounge with other King Avenue friends. This month's book is The Women They Could Not Silence by Kate Moore.

September 8: Hubbard Volunteers Community Event - Hubbard is having a community event on September 8 to connect their students and families with community resources. As one of Hubbard's community partners, King Avenue will have a booth there to show our support for Hubbard Elementary School, their students, and their teachers. Thanks to our volunteers and their continued partnership with Hubbard!

Thursdays Beginning September 8: King Avenue Music Ministry - New Singers Welcome! Our Music Ministry is always welcoming new members to join our ensembles. Chancel Choir meets on Thursday evenings at 7:30 and sings 3-4 times each month in the 11 AM service. We also prepare for special seasonal services during Advent and in the spring. Some choral experience is helpful, but not required. Bell Choir meets on Thursday evenings at 6:15 PM and typically rings once a month during the 11 AM service. Smaller ensembles occasionally ring for the 9 AM service as well. Some ringing experience is necessary, as we generally ring at a medium to high difficulty level. Blenders vocal ensemble meets on Wednesdays at 5:30 PM and sings each week during the 9 AM service. We would also welcome bass and guitar to our group. Instrumentalists are also welcome to share special music throughout the year. For information about any of our music ensembles, please contact Chris McManus, Minister of Music, at cmcmanus711@gmail.com.

Beginning September 11: Adult Social Principles Sunday School - The Social Principles are a grounding of our United Methodist home, intended to be "a prayerful and thoughtful effort on the part of the General Conference to speak to the human issues in the contemporary world." Come join Rev. Corey Perry on this six-week journey through the Social Principles as you understand their history, background, and statements. You will be challenged, excited, and - probably -frustrated, but you will also find an opportunity to grow and deepen your understanding of what it means to have a home in the United Methodist Church.

Beginning September 11: Sundays for Kids and Families - It's time! Sunday Morning programs for children, youth, and parents kicks off on September 11. We look forward to seeing everyone at Sunday School. There's something for everyone! READ ALL ABOUT IT

September 11, noon-2pm: Fall Kickoff Party - Join us for our Fall Kick-off as we come home and celebrate our church life together. We'll have pizza, play games, and explore all the ways we can grow in our faith together. Contact Gwen for ways to get involved with children, youth, family, and college-age ministries.

Announcing a Triple-Header of Ministers Coming Home! To celebrate the Centennial Celebration year of our beautiful church, we are hosting several former pastors. Following Linda Middelberg's message from the pulpit last month, we will be hosting three consecutive weeks of very special guest preachers to come home and preach. John Keeny is preaching September 18; Don Wallick is preaching September 25; and Grayson Atha will be preaching October 2. Let's fill the pews and enjoy these homecomings together!

Home Groups Coming Early Fall! King Avenue wants to help you grow in your life with Christ. This happens in powerful ways through consistent small groups that meet outside of Sunday morning church. So we want to start Home Groups. These will be groups of 7-12 people who live in the same general area as each other. They will gather weekly or semi-weekly in someone's home to pray together and grow together. We would love to get you connected with other King Avenue folks who live around your home so y'all can grow in Christ together. If you're interested in being a part of a Home Group, let Pastor Andy know (andy@kingave.org).

Wednesdays (8 weeks) beginning September 14: Midweek Grief Recovery Course - The Grief Recovery Method enables people struggling in their grief to find a way forward and a way home. It gives people the tools necessary to name their difficulties and find completion in their loss. As we all grieve differently, it is important to invest in ourselves to find a way that, for us, moves us from pain to a sense of peace so that we can find home again.

September 11: Blessing of the Backpacks, Bags and Briefcases - As students, teachers, and other school leaders return to school, we would like to offer a blessing for a positive, peaceful, and invigorating year of learning. Bring your backpack, bag or briefcase to church on Sunday, August 28th, so that we may share a blessing together.

Sign up by September 19: Casa de Misericordia Mexico Mission Trip 2023 - We are thrilled to announce the dates for our annual trip to support the orphanage in Mexico. We will leave Columbus on Thursday, March 2nd, and return Monday, March 6th. You need a passport. The deadline to sign up is September 19th and the cost is $900, which includes airfare, lodging, and most meals. You are required to have a passport by September 30th. Please contact Gwen at gwendolyn.derosa@gmail.com. Gracias!

September 25: Lit Club - Get in on the conversation by reading the month's book, and getting together on Sunday, September 25, 2022 at 7:00pm in the Logos Lounge with other King Avenue friends. This month's book is he Huntress by Kate Quinn.

September 30 - April 16: Confirmation Class of 2023 Begins! Confirmation is an important experience in the faith journey of young people in the church. When an infant is baptized in the United Methodist Church, the parents pledge to raise the child in the faith within their church family. Through Confirmation, youth (6th to 8th grades) will have the opportunity to publicly claim that faith and church family as their own, and transition into being a full member of King Avenue United Methodist Church.

October 9: Centennial Celebration - Don't miss worship on Sunday, October 9. We will be celebrating 299 King Avenue's Centennial with a very special service to celebrate this magnificent building we call home.

October 9: Centennial Celebration Lunch at J Lui - Information is coming soon for a special Centennial Celebration Lunch at J. Lui. Stay tuned to learn how you can register and pay on Realm.

Be part of the game day excitement! Are you looking for a fun easy way to get involved and be a part of the King Avenue Missions Team? If so, join the King Avenue OSU Parking Crew as we cheer on the Buckeyes success in 2022. We are currently seeking volunteers to assist Buckeye fans with parking in the King Avenue parking lot during all home games on the dates below. Whether you sign up for one game or the entire season, this unique and important mission will not disappoint. Please contact Shawn Compton at comptonlaw@msn.com for more information or to join the team. 9/03 Notre Dame 7:30pm; 9/10 Arkansas State noon; 9/17 Toledo 7:00pm; 9/24 Wisconsin TBD; 10/01 Rutgers TBD; 10/22 Iowa TBD; 11/12 Indiana TBD; 11/26 *ichigan noon

August NNEMAP & Hubbard Items of the Month - Each month, we are going to focus our donations on specific items our community partners. For the month of July, NNEMAP needs canned tomato products, up to 15 oz and razor blades. Hubbard needs "less common school supplies - deodorant, toothbrushes & toothpaste, and socks.You can bring your donations with you on Sundays. There will be a place to leave them in the back of the worship space.

Sign Up to be a Hubbard Volunteer! We have a wonderful partnership with Hubbard Elementary School and we are looking for volunteers willing to love and serve the students, teachers and faculty at Hubbard. This could include tutoring, helping with school events, donating items, and more. If you're interested in joining this vital partnership, let Pastor Andy know at andy@kingave.org.
Back