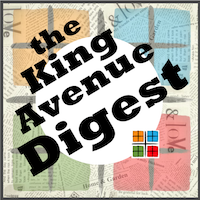 King Avenue Digest 9/12/20
September 12, 2020
THE NEWEST ANNOUNCEMENTS FOR YOUR ATTENTION
NEW WORSHIP TIMES! Beginning October 4, our MORNING BLEND WORSHIP WILL RETURN TO 9:00 AM. Traditional Worship remains at 11:00. Our virtual coffee hour will go on hiatus in order to enable everyone to be freed up for Children, Youth, and Adult Sunday School opportunities at 10:00 a.m. Stay tuned for these Faith Formation opportunities.

Children's Connections - On October 4th, we'll begin virtual Sunday School at 10 am. This is a wonderful way for parents and children to grow in their faith together. Click HERE to learn more about Children's Connections.

Youth Connections - Beginning, Oct. 4th, this virtual Sunday School class is for all youth in 6th to 12th grades. We will meet on Zoom every Sunday morning at 10 am. Reading the book "This Book is Anti-Racist" is suggested. We will discuss 2-3 of the sections during each class. It's incredibly important for our youth to connect their growing faith to the issues and concerns of daily life. Over the next couple of months, we will connect our relationship with God to the challenges of racism. We will learn how to become anti-racist as a faith community. Click HERE to learn more about Youth Connections.

Reminders Regarding In Person Worship Protocols - It has been so great to see so many of you venture back into our church building for Sunday in-person worship. In order to ensure that we are staying vigilant in our efforts to keep everyone safe, please review our safety procedures.

Comprehensive Stewardship Campaign - We are excited to announce the beginning of King Avenue's Comprehensive Stewardship Campaign authorized by the Administrative Council to prepare our church to move into the future. The name of the campaign is "Coming Together for the Transformation of Lives." Attached is the initial newsletter that explains the scope and needs of the campaign. More information will be sent in the coming weeks, but we want to introduce the campaign today. CLICK HERE to download the first newsletter, The Vessel - Issue I.

Spectrum Movie Night - Our last movie discussion night was such a success, we thought we would plan another one! On the night of Thursday, October 15 at 6:00, we'd love for you to join our Zoom chat about the documentary "Disclosure," which can be found on Netflix. In this film, leading trans creators and thinkers from Hollywood share their perspectives and analysis about Hollywood's impact on the trans community. Please plan to watch the documentary before Oct. 15 and come prepared to share your thoughts and impressions of this fascinating doc! A link to the Zoom chat will be provided at a later date. Be sure to keep an eye on the Spectrum FB page for details!

BYOSD (Bring Your Own Sack Dinner) - Do you miss human interaction? Have you worn the couch cushions down so far you can feel the springs? Do you find yourself chatting with your Alexa, just so you can hear someone answering you back? Have we got a great idea for you! Spectrum is going to host a BYOSD (Bring Your Own Sack Dinner) get-together on Thursday, September 24. We'll meet up in the shelter house in Fancyburg Park in Upper Arlington at 6:00 p.m. for a safe, socially distanced get-together. Grab a brown bag dinner and a non-alcoholic drink and come join us to be face-to-face with actual human faces! Interaction! Laughter! Togetherness! Can you believe it? How very "2019" of us!
CONTINUING NEWS - WORSHIP, FAITH FORMATION, FELLOWSHIP, & SUPPORT
Nominating Committee - The Nominating Committee is seeking names of persons to serve as committee officers on Administrative Council, Trustees, Finance, Pastor Parish Relations, Huggins Fund, Spectrum, King Avenue Players, Nominations, Scholarship, and Endowment. If you would be interested in serving or you would like to identify an individual, please let us know by emailing jkeeny@kingave.org or colleen@kingave.org. All recommendations are taken into consideration; however, please note that individuals are formally selected only when directly contacted by the committee. Feel free to offer names without a particular position. CLICK HERE for descriptions of ministries and committees.

Divorced or Separated? Find help, hope and healing through Divorce Care, a 13-week seminar & support group starting September 24, 2020. You can join at any time! This group meets Thursdays, 6:30pm-8:30pm at 
St. Lukes on Fifth, Columbus 43212 (Church affiliation not required). Click HERE to download the flyer. Direct Registration link - www.divorcecare.org/groups/125557

Children, Youth, & Families Virtual Visits - Gwen & Erin are inviting families to sign up for Virtual Visits on Tuesday evenings beginning September 7th. There is a SignUp Genius posted on the Children & Youth Ministries Facebook pages and on Realm for you to sign up for a 30-min visit. If you have questions, reach out to Gwen or Erin.

Get Involved! Promote Democracy in Ohio - The 2020 Nonpartisan Ohio Voter Outreach Committee, led by the Ohio Voter Rights Coalition, is an alliance of nonpartisan statewide organizations that advocates for voting rights, ballot access, and voter empowerment. If you would like to join their efforts, you can visit them on Facebook or view their event calendar to learn about trainings for Text Banks and other area events. Visit their Facebook page at https://www.facebook.com/ohvoteroutreach/ and view the event at https://bit.ly/novocevents.Sermon Series - The August and September sermon series uses the poem, A Prayer for the Church in These Times by William Sloane Coffin of Riverside Church. Click HERE for a link to the prayer.

Pastor Colleen Open Office Hours - We live in challenging times. One of the blessings of Christian life is that we share our burdens with one another and with God. If you are grieving, feeling dispirited, anxious, overwhelmed, or simply would like conversation and prayer, Pastor Colleen Ogle is available. She will hold Monday evenings 7-9 pm and Tuesday afternoons 3-5 pm for conversations by phone, on-line through Zoom, or in-person. Please email colleen@kingave.org to make arrangements. In the email, please indicate when you are available, whether you want to talk by phone, zoom, or in-person and you will receive a prompt response with information about how to proceed. You may also share if you need a different time to talk.

Pastoral Visits to Hospital & Extended Care Facilities - At present the church building is only open for worship. Although pastors are not yet permitted to visit persons in hospitals or extended care facilities, we do want to know when persons have health concerns. Please include these in the prayer concerns or contact a pastor directly jkeeny@kingave.org or colleen@kingave.org.

CORE Youth Center is a virtual place for youth! Are you looking for online faith resources for your youth (6th to 12th grades)? King Avenue UMC's Children and Youth Education Program created an inclusive and affirming website to fit this need. Think of this as a home base as you stretch, grow, and explore your faith and your identity as a Jesus follower. What you believe, think, and feel will change during your Middle and High School years. And your journey will not end when you graduate. Our faith journeys continue for our whole lives. Check out the CORE Youth Center here: https://sites.google.com/view/coreyouthcenter/home and contact Gwendolyn DeRosa at gwen@kingave.org if you would like to help create new content.

Small Group Welcomes Young Adults - The Next Chapter virtual small group led by Amy Oblinger, meets every Wednesday at 6 on Zoom. This young adult group discusses participants' thoughts about and reactions to that week's sermon, whether it was seen in-person on Sunday or watched from the comfort of home. The session sometimes includes discussing current events and studying the scriptures, and always includes time to pray for each other. The group welcomes new participants. If you are interested, contact amylianne@gmail.com for the Zoom link.
VOLUNTEER OPPORTUNITIES
Volunteers Needed at NNEMAP Food Pantry - NNEMAP added service on Thursdays from 3 until 7PM, and Saturdays from 10 until 1pm. The Saturday shifts will be the same as our shifts during the week, with full offerings of food. This will not be a produce-only day. The Thursday shift represents our first offering of afternoon and evening hours to provide services those who work during the weekdays. NNEMAP will begin accepting clients from all zip codes in Columbus and Franklin Co. NNEMAP will need more volunteers! NNEMAP is centrally located near the Ohio Expo Center at 677 E 11th Ave, Columbus, OH 43211. NNEMAP is also expanding into a home delivery service, providing several deliveries each week to those who need food assistance and lack transportation. Drivers are among the volunteers needed to make this work. Those interested should contact director@nnemappantry.org

Audio-Visual Volunteers Needed - We are looking for some folks who would like to learn how to help with live streaming our 9:30 and 11:00 services. You don't need a lot of experience; we will train you! Please email beth@kingave.org if you are interested.
LOOKING AHEAD
Lit Club on Zoom! - Join Lit Club on Sunday, September 27 at 7pm to discuss Beloved by Toni Morrison. All are welcome to join in the conversation. https://us02web.zoom.us/j/81766691290

SAVE THE DATE for Changing the Conversation Series – This year's Changing the Conversation Series welcomes Dr.Wendy VanderWal Gritter on Sunday, October 11 from 7:00-8:00pm. A rules-based approach to sex hasn't served the church very well. The harm runs deep. There must be a better way. Dr. Wendy VanderWal Gritter will help us understand how reclaiming our agency, sharpening our discernment, sharing wisdom and mutual support, and focusing on flourishing are steps to embracing God's good gift of sex. Register on Realm.
Our Mission Statement - We invite, welcome and honor all people and nurture them to grow in service with Christ.

Our Vision Statement - We are a community of servants called by God's reconciling grace to open doors of sanctuary, to create new avenues of ministry, to equip Christians for discipleship, to lead reconciling ministries.
Back