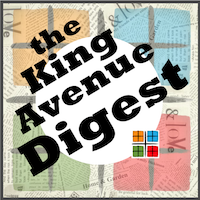 King Avenue Digest 9/15/2023
September 15, 2023

*NEW ANNOUNCEMENTS*
Did you miss the Volunteer Fair? Volunteer/Ministry Fair tables will be set up on Sunday, September 17 in case you missed it. But whether you were able to attend the September 10th Volunteer Fair or not, we'd love to connect with you! Scan the QR Code to access a Volunteer Fair Form. Please check the box for any volunteer or fellowship opportunities you'd like to learn more about. Your email address will be shared with the Ministry/Fellowship Lead, and you'll be contacted with more information. Thanks in advance for your interest! ACCESS THE VOLUNTEER/MINISTRY FAIR FORM

We are Officially "Kicked Off" - What a fantastic Sunday of worship, Sunday School, Worship Connections, adult classes, robed choir, Taco Bar luncheon, and outdoor games! A sincere thank you to all of those involved in planning, teaching, cooking, rehearsing, singing, learning, eating, and playing. It certainly was a wonderful chance for our church family to get the year started out on the right foot... even sock feet bouncing in a BOUNCE HOUSE! By the way, if you enjoyed the luncheon and would still like to contribute, it's not too late! GIVE TO ALL-CHURCH LUNCH

NEXT WEEK! Wednesday, September 20 from 7-9: What the L?! - What the L?! will be an evening of celebrating Lesbian identity and stories. Our panel will discuss the rich history, diverse experiences, and powerful stories of lesbian-identifying women. Join us as we delve into the history of what it means to be lesbian in a predominantly patriarchal society, and exploring milestones, struggles, and contributions that have shaped the LGBTQ+ community. Let's come together to honor the past, celebrate the present, and pave the way for a more inclusive and accepting future. To aid in our planning, please register for this event. Thanks! REGISTER HERE

Saturday, September 30: HeartSong Lawn Concert - Heartsong invites you to the Broadway Meets Disney Lawn Concert! Come out on September 30 at 3pm to the latest HeartSong show! This show will be hosted by Gina and Jonah Minot at their home (2483 Shrewsbury Road Columbus, OH 43221). Bring a chair and a snack/drink and be ready to sing along with some tunes! All proceeds will go to find a cure for Rett syndrome.

Beginning Sunday, October 1: Kinship Campus Ministry Lunch - Meet other college students for a free monthly lunch in Donnenwirth Lounge, on the 1st Sunday of every month, at 12:30 pm (come up after the worship service). Open to any college students (undergrad or grad). Contact Gwen with any questions, dietary restrictions, or food allergies at gwendolyn.derosa@gmail.com.

By October 8: Altar Pictures of Your Pet Needed! Kurt Reichert is creating an altar-scape for the Blessing of the Animals on October 8. Please email him pictures of you and your pet by October 2 to kurtfreichert@yahoo.com.

Interested in Being a Hubbard Tutor? King Avenue has a vibrant partnership with Hubbard Elementary School. One way we love and serve our neighbors at Hubbard is by tutoring some of their students who need a little help. Last year we had at least one King Avenue person in the building every day of the week! If you're interested in being a part of this vital ministry and want to spend a couple hours of your week tutoring a student or two, let Pastor Andy know (andy@kingave.org)
KEEP READING FOR THE REST OF OUR CURRENT HAPPENINGS AND NEWS...
Sundays, September 10 - October 15: The Housing Crisis Sunday School Class (facilitated by Tim Bechtol) - Join other adults during the Sunday School hour for a 6-week class (last class will be Oct. 15). Houselessness affects all of us in many different ways. It's such a complex social issue that we don't even know how to talk about it. It may seem like an insurmountable problem, but it is not. There are people and organizations doing good work to address housing in Central Ohio. Starting on Sunday, Sept. 10 and continuing for six weeks, we will have a chance to hear from some of those people and organizations at 10am in between worship services. Join us and learn what is being done and how you can join in. This class will be held in the Chapel during the Sunday School Hour. You can attend one class, or all six! CLICK TO REGISTER ON REALM

Beginning Tuesday, September 26: Action for Justice Book Group (led by Lisa Clark) - Join us in the Action for Justice Book Club, this fall! We will meet once a month, starting Tuesday, September 26th from 6:45-8pm in the Donnenwirth Lounge. This group is open to all, including high schoolers. The topic and book information will be emailed at the beginning of the month to those interested in participating. This will be an excellent discussion time to learn about the justice issues facing us today. The first book is The Rise And Fall Of The Bible: The Unexpected History of An Accidental Book by Timothy Beal. Please register on Realm or let a staff member know so that we can make sure this is as low cost as possible. Hope to see you there! CLICK TO REGISTER ON REALM

Read Ahead... September 24: Lit Club - Join the Lit Club on September 24 at 7pm in the Logos Lounge. All are welcome! Simply read the book of the month - this month's book is Project Hail Mary by Andy Weir - and get together to talk about it. Contact Rick Gilson (rickgilson@yahoo.com) if you'd like to be added to the communication group in Realm.

Thursday, September 28: Retirees to National Veterans Memorial and Museum - Join the Retirees' Ministry on a guided tour of the National Veterans Memorial Museum and Museum on Thursday, September 28th at 11:00 - 1:00. The museum focuses on the stories of veterans and individuals with the mission to "honor, inspire, connect and educate. The cost for our Retirees is $5.00 and REGISTRATION on Realm is required. Veterans and NVMM members are free and should RSVP with Teresa Malloy at malloy29@aol.com. CLICK HERE TO REGISTER

Saturday, September 30: Young Adults Bonfire - King Avenue Young Adults are getting together for a bonfire! September 30, 6-9pm, we'll be near the corn maze at Lynd's Fruit Farm (9851 Morse Rd., Pataskala) with a bonfire, s'mores, and hot dogs. Enjoy the quintessential fall experience and connect with other young adults (college-35ish). We all need community, and around a bonfire is the perfect place to find it.

Register by October 1: Mexico Mission Trip - We are thrilled to announce the dates for our annual trip to support the orphanage in Mexico. We will leave Columbus on Thursday, February 15th, and return Monday, February 19th. The deadline to sign up is October 1st and the cost is $900, which includes airfare, lodging, and most meals. You are required to have a passport by October 1st. Space is available for 10 adults and 4 youth. We will prioritize participants who are willing to drive or translate. Please contact Gwen at gwendolyn.derosa@gmail.com if you have any questions. Gracias! CLICK HERE TO REGISTER

Sunday, October 8: Blessing of the Animals - Bring your furry friends to Sunday worship on Sunday, October 8. Services will be held at 9:00am in Fellowship Hall or 11:00am in the Sanctuary. Pets with fur, feathers, scales, and fins are welcome. We expect this abbreviated service will be noisy and squirmy! You know your pet... If you're not sure how they'll do indoors with others (or on carpet), you are welcome to bring a picture of your pet instead! If you're able, please bring a donation of pet food. We will be donating these offerings to NNEMAP.

MARK YOUR CALENDARS for Wednesdays, October 11 & 25: Congregational and Community education with the Alzheimer's Association - Are you concerned about Dementia, or are you a caretaker of someone struggling with Dementia? King Avenue is partnering with the Alzheimer's Association for a congregational and community outreach education program around the topic of dementia. All are welcome from 6:00-7:30pm on Wednesday, October 11 and Wednesday, October 25. Bring friends or family members. Download the flyer for the topics to be covered. DOWNLOAD FLYER

UMCOR Assistance for Wildfire Victims in Hawaii - Wind-driven wildfires on Maui have prompted evacuations and caused significant loss of life and widespread damage. UMCOR is coordinating with the California-Pacific Annual Conference to process an initial grant for emergency supplies such as shelf-stable food, water, hygiene items and tools to help survivors recover belongings. As first responders continue to provide initial aid in the area, please join UMCOR in prayer for those affected. You can also help by making a financial donation. Just make out a check to Global Ministries/UMCOR with "Advance #901670-Hawaii" written on the memo line and put it in the offering plate at church, or click on this link to give online. CLICK TO GIVE

NNEMAP Item of the Month for September - Each month, we are going to focus our donations on specific items our community partners. You can bring your donations with you on Sundays. There will be a place to leave them in the back of the worship space. Please donate non-perishable side items (boxes, cans, etc) during the month of Septembrer.

Hubbard Item of the Month for September - Hubbard can use additional school supplies in September. You can bring your donations with you on Sundays. There will be a place to leave them in the back of the worship space. Please donate scissors, pencils, and crayons during the month of September.
Back