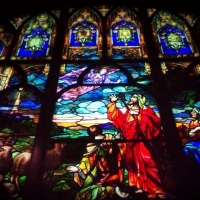 King Avenue Re-Opening Plan for June 14
June 4, 2020

King Avenue Re-Opens for Worship on Sunday, June 14
---
Dear King Avenue Friends,

What a spring it's been! We miss each one of you and have been prayerfully looking forward to the time when we can be physically present with one another again. The leadership of King Avenue Church is glad to announce that, along with the recommendations and guidelines set forth by the State of Ohio and the Centers for Disease Control, we will begin a slow re-opening process for worship activities at King Avenue Church.

In-person worship will resume at King Avenue Church on Sunday, June 14, 2020.
9:30am Casual Worship Service; Approximate Capacity 70 people (Fellowship Hall)
11:00am Traditional Worship Service; Approximate Capacity 80 people (Sanctuary)
1:00pm King Avenue Church Online Worship Service. This will be a recording of worship from one of the in-person services earlier that day.
2:00pm Fellowship Hour via Zoom. Invite your friends to meet you online at church!
Seating
As you arrive, you will be seated by an usher in order to maintain recommended social distancing guidelines. We ask that household groups (i.e. 2 or more people who live together in the same residence) arrive together to be seated.
What to Expect
If you will be worshiping in person at King Avenue Church, please note the following:
All persons over age 2 are asked to wear a facial covering over the mouth and nose while they are in the building. Sanitized, returnable masks will be available to you as you enter the building, if needed. If you are not able to wear a facial covering, please contact one of the Pastors (jkeeny@kingave.org or colleen@kingave.org) or the Parish Nurse (virgsheffield@aol.com) to discuss your individual situation.

Upon entry to the building, each person will be asked to wash/sanitize hands (designated stations for sanitizing/washing will be easily accessible)

You will enter and exit the church from the parking lot entrances only. There will be greeters at the West doors and South (accessible) doors to guide you to your worship space.

There will not be childcare, children's ministry options, fellowship hall children's table materials or sanctuary children's clipboards available until further notice. If you will be attending with young children, they must be with you at all times.

You are asked not to arrive more than 15 minutes prior to the worship service that you are attending. Please exit the building within 10 minutes of dismissal from worship.

Social distancing and other actions supporting a safe, public space are expected by all persons. We must continue to care for each other by continuing to keep each other safe while we are together.
We understand that everyone at King Avenue will have different levels of comfort about when they will return to church for in-person worship and activities. We support each person's choice to worship in person or continue worshiping online with us. Continue to be safe. Continue to connect with each other. Continue to have hope. We are looking forward to being fully together again soon.

Please note that this first phase of re-opening will NOT include 8am in the Sanctuary as previously stated. We are postponing the start date for the 8:00 am worship service until later in the summer. The 8:00 am worship service is designated for persons with high risk of serious illness from COVID-19, and we have learned that few persons in the high-risk category feel ready to enter public spaces.

If you have questions or need further information about how King Avenue is working hard to keep you physically safe and spiritually fed, please reach out to one of the Pastors or a staff member.

With Christ's Love,
Pastors John Keeny and Colleen Ogle
Back