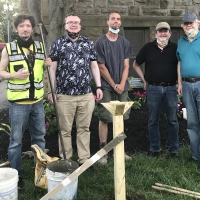 Little Free Library at King Avenue
June 3, 2020

Book Drive and Little Free Library
---
Looking for a service project? The January New Member Class considered the issue of limited access to books during the health crisis, especially for children and young readers. The conversation centered on "Little Free Libraries," the boxes that have sprung up in Columbus neighborhoods and across the country as distribution points for free books. Exploration revealed that thanks to Rev. Stan Sutton (carpenter) and Sheryl Lazenby (painter), King Avenue Church had a "Little Free Library" unit waiting to be installed and stocked!

With plans for installation underway, the class is asking for contributions of books to stock the unit. A drop-off table will be provided at Sunday morning worship services June 14 and 21. We are seeking materials of general interest with an emphasis on young readers. Children's books in Spanish would be especially welcome.

If you are unable to connect for the Sunday morning drop-off, please contact Amy Ashburn through the church office at (614) 424-6050, Ext. 100 to make arrangements.
Back