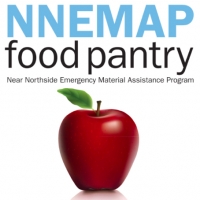 NNEMAP Holiday Gifts
November 13, 2020
Gifts for the Holidays 2020!
---
We are now gratefully accepting donations of NEW, UNWRAPPED GIFTS for Children. Donors like you helped NNEMAP Food Pantry provide gifts for nearly 1,000 kids in 2019! We need your help again!

Gift Suggestions
• Footballs, Basketballs, Soccer Balls, Other Sports Equipment
• Dolls and Stuffed Animals • Board Games • Kitchen Toys • Art Supplies
• Hats, Gloves, Scarves, Socks • Watches, Costume Jewelry, Nail Polish
• OSU / Team Apparel • Ear Buds / Headphones • Fragrances / Cologne / Perfume • Remote Control / Battery-Powered Toys (and Batteries!)

DELIVER GIFTS NOW THROUGH DECEMBER 7 by dropping your new, unwrapped gift to the NNEMAP Food Pantry - 677 E. 11th Ave, Columbus, OH 43211.
Deliveries accepted between 10AM - 1PM Monday through Saturday.
Need to make alternative arrangements? PLEASE CALL 6114-297-0533)
Cash donation? Visit NNEMAPPantry.org/give or mail a check to NNEMAP, Inc. to the address above

VOLUNTEERS NEEDED!
The Gift Shoppe is Open December 14—19, 2020 9am-1pm Hosted by Linden Life Fellowship. To volunteer, please contact Roy Clark at director@nnemappantry.org or call 614-297-0533.

Lindon Life Fellowship
877 E. 11th Ave
Columbus, OH 43211

THANK YOU FOR HELPING MAKE THE HOLIDAYS A SPECIAL TIME FOR OUR YOUNGEST CUSTOMERS!
Download Flyer
Back