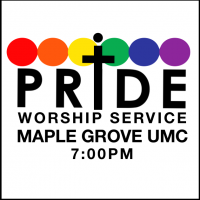 Reconciling Ministries Pride Worship
May 31, 2019

Reconciling Ministries Network Churches Host Pride Worship
---
On Friday, June 14th, at 7 p.m. on Pride Weekend, Maple Grove and Maynard Avenue, together with Asbury North (our host next year) will be welcoming you to join in a service that celebrates God's love, acceptance and blessing of all persons. Maple Grove is the host this year. There will be great music, testimonies, as well as communion and anointing,so what's not to like! A flyer for the service is attached.

COMMUNION/ANOINTING
We will celebrate communion together and anointing will also be available. Pastors, we would like for you to help with both of these, and for some of you to bring a chalice. Let me us know if you will be participating, and we will get back to you with an assignment. If you are unable to attend, but have a lay member that you would like for us to include, please let us know that, too.

MASS CHOIR
As part of this celebration, we will again have a mass choir and all are invited to join in! Music leaders will include Winston White, from Asbury North; Bryan Babcock, from Maynard Avenue; and Connor Notestine of Maple Grove with Bryan Babcock of Maynard Avenue on the piano. The pieces chosen for the mass choir this year are: "Child of God," by Mark Miller, and "Worth" by Anthony Brown.

Back