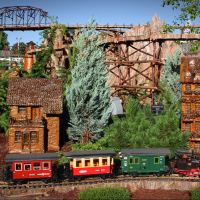 Retirees Outing - Paul Busse Garden Railway
August 5, 2021

Retiree Outing to Franklin Park
---
Join the Retiree Ministry Thursday, August 26th for an outing at the Franklin Park Conservatory. Enjoy wonderful fellowship as we explore the Paul Busse Garden Railway and travel through a "miniature world of 51 botanical models made from all natural-plant materials".
We will meet at the main entrance of the Franklin Park Conservatory at 11:30 a.m. If it is raining, we will meet inside near the ticket booth. Admission is $16. Please register by August 19th. Contact Angela Finney if assistance is needed for transportation, registration, or cost of the event or additional information at finneyhorse@icloud.com or 740-504-4361.
Bring a sack lunch! Garden Café is available. We plan to eat first then explore the gardens. We hope to see you there.
For additional information or questions contact Teresa Malloy at malloy29@aol.com
Even though you will pay for admission at the door, PLEASE do RSVP/register in Realm (link below) so that Franklin Park Conservatory knows our group size. Thanks!

RSVP/Register HERE

Image of Paul Busse Railway was used from Franklin Park Conservatory and Botanical Garden website.
Back