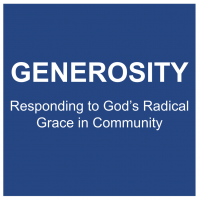 Small Group Study - Sermon Series
September 26, 2020
Feeling disconnected from your King Avenue church family? Would you like to be part of a small group conversation around the upcoming sermon series? Or...Would your existing small group like to participate in the upcoming church-wide sermon series study together?

In October, John and Colleen will begin a sermon series using scripture, of course, and the book Generosity: Responding to God's Radical Grace in Community by Tim Keller.

Reading the book is not required, although after the sermons and discussions you might want to. Groups meet once a week for four weeks via Zoom or potentially in socially distant in-person sessions. Small groups will meet to discuss the previous Sunday's sermon. Group leaders will have an outline and discussion questions for each meeting.

Times offered are:
Sunday Class at 8:00 PM on 10/18, 10/25, 11/1 and 11/8

Wednesday Class at 7:00 PM on 10/21, 10/28, 11/4 and 11/11

Thursday Class at 7:00 PM on 10/22, 10/29, 11/5 and 11/12

Existing small groups may take part in this study during their "normal" meeting day/time
Questions? Contact Bret Baird at brethbaird@yahoo.com or 614-302-9273 or Susan Taylor at susan1taylor@aol.com or 614-596-5843.



Back