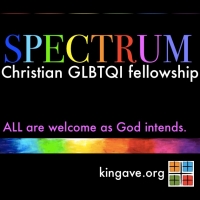 Spectrum News - August
July 30, 2021

August Spectrum News
---
Hello, Spectrum community!

We are slowly but surely coming out of our quarantine hibernation and enjoying the company of actual humans again. The response to our Buckeye Lake outing was tremendous, and we have you to thank for that! If you weren't able to make it to that event, we hope we'll see you at an upcoming gathering.

August 13
Spectrum is hosting a Game Night on Friday, August 13 starting at 6:00 p.m. down in the Fellowship Hall. We have several games at the church already, but feel free to bring a favorite from home that you can teach a table of friends! We'll serve pizza and soft drinks, but we'd love for you to bring some sweet or salty munchies to share. Check out the Spectrum Facebook page for further information and to RSVP.

August 20
We're lucky to live in a city with so many great opportunities for free fun! Case in point: Goodale Park's "Screen on the Green" Outdoor Movie Series is showing an absolute classic, To Wong Foo, Thanks for Everything, Julie Newmar on Friday, August 20 starting at dusk. Meet up with your KAUMC buddies and come out to watch this delightful film! (Bring a blanket or chairs and a flashlight. You can also bring a picnic if you want, or there are refreshments available for sale at the park.) We'll give further details about where to find the King Avenue crew closer to the movie date. Again, watch our Facebook page for information! (If this evening works out, we'll try it again in September, when they're showing the incredible "Paddington." Seriously, if you haven't seen that one, it's a MUST!)

Enjoy these last weeks of summer, friends, and we'll look forward to seeing you soon!
Back