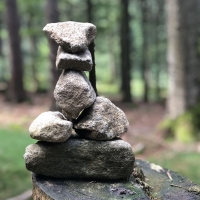 Spiritual By Nature - Class Outdoors!
June 4, 2020

Spiritual by Nature
---
Join us for an in-person experience in nature. We will meet at a different Metro Park for two Saturdays in June and two Saturdays in July, combining a walk in nature with a self-guided meditation on God, Creation, and our place in it all.
Walks/hikes will be around 1 mile and no more than 1.5 miles on trails that have been rated "Easy" by park staff.

Each class will be at a different park. Please register for this event on Realm so you get updates on where the class will be held as well as any weather cancellations. One session each will be held at Blendon Woods, Highbanks, Scioto Audubon, and Battelle Darby parks.

We ask that all participants wear a mask; participants will be socially distanced during class, but please be aware that we may also encounter members of the public while in session. We will do our best to keep distance when at all possible.

Classes are standalone, and you are welcome to attend any class even if you didn't attend the previous one.
Registration Link
https://onrealm.org/kingave/PublicRegistrations/Event?linkString=OWMxZjlkZDktMmQxMi00Y2MxLTkxNjctYWJjZDAwZmVkYWQw

Or scan this QR Code to register on Realm.




Please direct any questions to beth@kingave.org.
Back