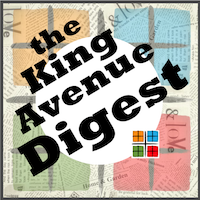 King Avenue Digest 7/3/20
July 3, 2020
THE KING AVENUE DIGEST - JULY 3, 2020
---
The Racial Complex: A Conversation on Racism, Shadow and the Personal Unconscious – A Talk with Fanny Brewster, Ph.D., M.F.A - You are welcome to participate in a program on July 11 from 10:00-11:30am led by Fanny Brewster, Ph.D., M.F.A, a Jungian analyst, Professor of Depth Psychology at Pacifica Graduate Institute, and author/poet. This is a free Zoom based program but please email JACO at jungaco@jungcentralohio.org by Thursday July 9 so that we can get back in touch with you to provide the Zoom link to participate. CLICK HERE TO LEARN MORE
July Lit Club - All are welcome to join in the discussion of The Sympathizer: A Novel by Viet Thanh Nguyen on Sunday, July 26 at 7pm on Zoom. https://us02web.zoom.us/j/81766691290
The Death and Life of Marsha P. Johnson Zoom Movie Discussion - Join Spectrum in a Zoom discussion group on the Netflix movie The Death and Life of Marsha P. Johnson. Marsha was a drag performer of color who was known for her prominent role in the LGBTQ rights movement and for starting an organization serving transgender youth. This movie outlines her activist work during her life and the mysterious circumstances surrounding her death. We ask that all who wish to attend this discussion view this movie on Netflix before this event and come ready to discuss with the group. This Zoom discussion will take place on Thursday, July 9 at 6PM. https://us02web.zoom.us/j/83658152222
New Life Community Outreach seeking new Board Member - The NLCO brings volunteers and guests together, providing a caring space where Short North underserved neighbors can enjoy breakfast, meet with an attorney, and seek medical care…all without cost. We are seeking a new Board Member with a passion for our mission, and non-profit or business experience to offer. Please contact jkeeny@kingave.org or don@dwcastle.com with the subject NLCO Board member.
Upper Room Devotionals - July/August Upper Room Devotionals are available at the south and west doors.
Flowers for Worship - If you would like to donate flowers for an upcoming worship service, please contact Amy Ashburn for more details, amy@kingave.org.
NNEMAP Food Pantry - You can resume bringing contributions of non-perishable food items for NNEMAP to the church. Thank you!
Pennsylvania Lot - Until further notice, the OSU lot on Pennsylvania Avenue is not available for Sunday worship parking. There are sufficient spaces in our lots and on the street.
Fall Rummage Canceled - The UMW Fall Rummage Sale has been canceled. Please do not bring any more items until further notice. Thank you!
Pastoral Visits to Hospital & Extended Care Facilities - At present the church building is only open for worship. Although pastors are not yet permitted to visit persons in hospitals or extended care facilities, we do want to know when persons have health concerns. Please include these in the prayer concerns or contact a pastor directly jkeeny@kingave.org or colleen@kingave.org.
Greeters and Ushers Still Needed! In order to ensure safety of everyone during our three in-person services each week, additional help is needed in ushering and greeting. Don't worry if you are new to this role. You will receive training. If you're willing to lend a helping hand and a friendly (masked) face to the team, please email Beth Aiello, Director of Support Services, at beth@kingave.org. Please give your name and whether you'd like to serve at the 8:00, 9:30, or 11:00 service.
Our Mission Statement
"We invite, welcome and honor all people and nurture them to grow in service with Christ."
Our Vision Statement
"We are a community of servants called by God's reconciling grace to open doors of sanctuary, to create new avenues of ministry, to equip Christians for discipleship, to lead reconciling ministries."
Back